It's time for another update from BIFF SOCKO, TWO-FISTED NEWSHOUND. Biff Socko covers Comic Book News like zits on the A-V Club. Faster than Perry White! Stronger than J. Jonah Jameson! Hotter than Cat Grant. He is…BIFF SOCKO!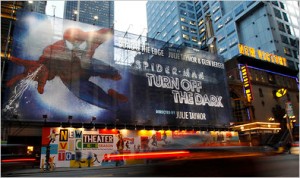 DATELINE: Broadway-   After three controversial years, the Broadway musical "Spider-Man: Turn-Off the Dark" will be closing in January, 2015. The much-ballyhooed production has been averaging a $1 million a week in ticket sales at the Foxwood Theatre, but COSTS $1.2 million a week to put on! The Foxwood will not be empty long. Another new musical "King Kong", will be brought in to fill the space. To which Spider-man replied: "That's what SHE said".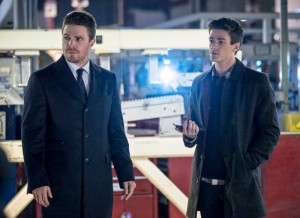 DATELINE: Starling City– Don't expect to see your favorite Scarlet Speedster on the CW TV series "Arrow", at least not in costume. The network has announced a change in plans. BARRY ALLEN will appear on two episodes of "Arrow" on December 4th and 11th, but not as a backdoor pilot for a FLASH TV series. Studio execs have been so pleased with actor Grant Gustin's take on the character, they have decided to produce a regular, full-blown stand-alone pilot for a series. This was immediately followed by the ACLU filing an injunction against the show, stating: "Because Green Arrow wears only a sleeveless hoodie, Black Canary doesn't even have fishnets, and don't EVEN get us started on Smallville's obvious Anti-Uniform Stance, we hereby serve this notice on behalf of the INTERNATIONAL SUPER-HERO/SUPER-VILLAIN COSTUME MAKERS union."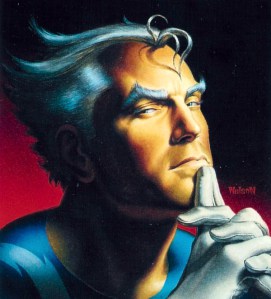 DEADLINE: The Courtroom-  Marvel Studios Production President KEVIN FEIGE says QUICKSILVER is not the only Marvel character with a foot in both Marvel Studios and Fox Studios cinematic worlds. The silver-haired speedster is set to appear in both Marvel's "X-Men: Days of Future Past", and Fox's "Avengers: Age of Ultron". Feige says there are similar questions about characters like CAROL DANVERS, and FIRESTAR, but as of right now, Quicksilver is the only one who will be going both ways…which we all kind of suspected anyway, right?
STAY INFORMED, DISCERNING READERS! STAY ALERT, INVOLVED CITIZENS! STAY CLASSY, GREAT WHITE WAY!! FOLLOW BIFF SOCKO ON TWITTER @bsocko