It's time for another update from BIFF SOCKO, TWO-FISTED NEWSHOUND. Biff Socko covers Comic Book News like zits on the A-V Club. Faster than Perry White! Stronger than J. Jonah Jameson! Hotter than Cat Grant. He is…BIFF SOCKO!
DATELINE: CINEPLEX– This week sees the release of the long-awaited KICK ASS 2. The MPAA has created a new rating for the ultra-violent pic– R-K9:
RESTRICTED TO ANYONE WHO DOESN'T MIND SEEING A DOG RIP INTO A GUY'S FAMILY JEWELS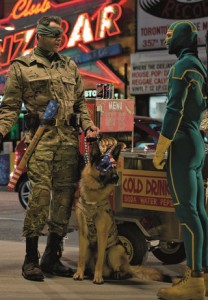 DATELINE: MILKY WAY– There's been no official confirmation, but VIN DIESEL has more-or-less confirmed to an interviewer that he will be playing GROOT in the upcoming GUARDIANS OF THE GALAXY movie. He told Hero Complex's AMY KAUFMAN that he was looking forward to playing "the strangest Marvel character", and the giant tree-like GROOT definitely qualifies (INSERT YOUR OWN "WOODEN ACTING" JOKE HERE…AT YOUR OWN PERIL). Obviously, Diesel is committed to the role: he has already memorized ALL of his dialogue–
"I AM GROOT"
"I AM GROOT"  and
"I AM GROOT"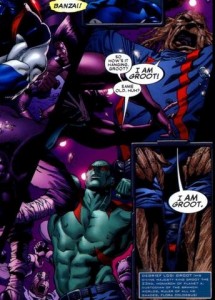 DATELINE: METROPOLIS– In other possible casting news, award-winning actor BRYAN CRANSTON says he would be very interested in playing LEX LUTHOR in the SUPERMAN VS BATMAN movie. The BREAKING BAD star confirmed that he is on the shortlist to play.the follically-challenged super-villain. The script is being rewritten with a new ending to accommodate Cranston with a new finale. I fished this discarded script page out of the dumpster of the film's screenwriter–
SUPERMAN is visiting MA KENT in the Smallville Elderly Care Facility, when BATMAN enters, rigged with a Kryptonite bomb. LEX triggers the bomb which blows half of SUPERMAN'S face off. He adjusts his cape before dying.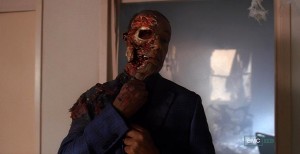 STAY INFORMED, DISCERNING READERS! STAY ALERT, INVOLVED CITIZENS! STAY CLASSY, ALBUQUERQUE!! FOLLOW BIFF SOCKO ON TWITTER @bsocko