This book makes me angry…I'm bitter that books this great weren't around when I was a kid.
Draw Out the Story: Ten Secrets to Creating Your Own Comics by local cartoonist Brian McLachlan and released mid 2013 is a must have if you have kids, and even if you don't, I still can't recommend it enough.  This book is fun, charming, informative, but most of all – it challenges the reader.  One of my favourite features in this book – one that's often missing in instructional literature – are the exercises at the end of each chapter. They're well thought out and lots of fun. I soon found myself cutting out panels and dialogue bubbles, and that was the first exercise.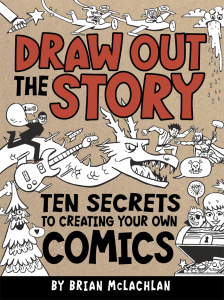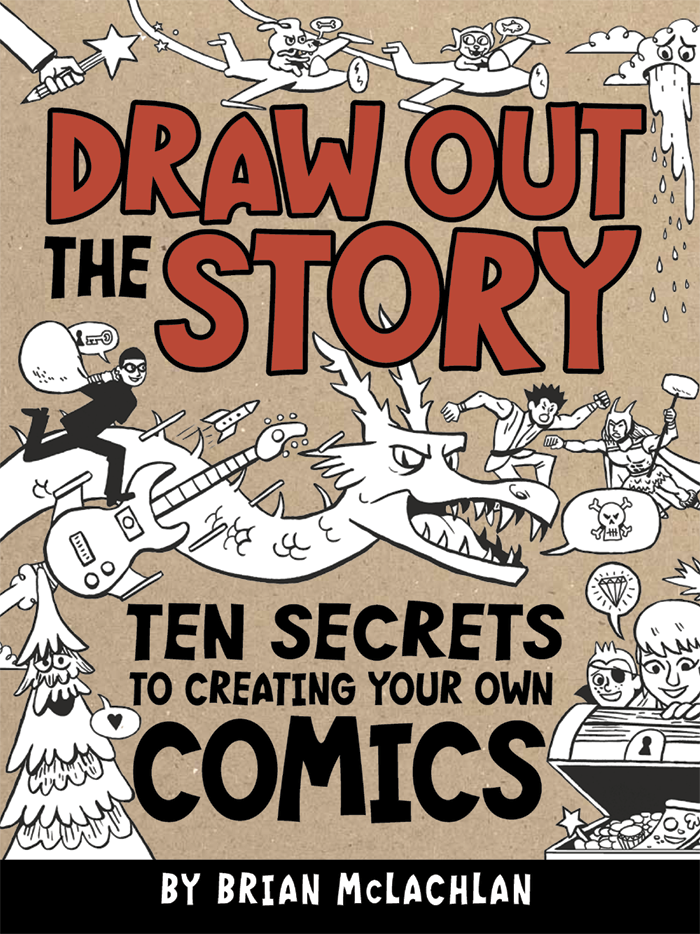 Let me breakdown the chapters, or in this case – Secrets:
Comics let you show & tell.
There are 3 parts to presenting a comic.
Simple art doesn't equal simple stories
Details make all the difference.
Let the personality shine.
Take it one moment at a time.
Know your tools.
You need more than one good idea.
There are 2 ways to build a story.
Go beyond the normal.
Mr. McLachlan does an excellent job breaking down the creative and technical elements of storytelling while not burdening the reader. He keeps it simple – and yet he doesn't insult the reader's intelligence. Very early in the book he encourages kids to be "an active reader" and not to just think about the story, think about how the story is presented, question why the author presented it this way? It's wonderful advice but I don't think I was ever told this when I was younger. It's a shame as it's one of the most important tips you could give to any young artist.
Visually, this book is a treat. Of course, any book about creating comics should be visual, you'd be surprised at how many aren't. That brings me to another strength in Mr. McLachlan's approach – it's ok if you can't draw. He reminds kids that many comics are drawn with basic stick figures and simple line drawings. I remember being young and becoming easily discouraged at my drawings. I never had anyone to really encourage me to be patient and try and try again – a book like this would have done wonders for my fragile mindset. The tips and lessons throughout this book will help any kid improve their comic craft and storytelling – just make sure you're there to encourage them.
Speaking of which, I had this nagging feeling in the back of my mind about this book that I couldn't put my finger on and then the obvious occurred to me, this is a comic related book made for children/youth.  I'm a little confused about how kids view comics today. I've seen lots of them at Fan Expo and they wear clothes with Spider-Man and Superman on them, so I know they are aware of comic books and yet, I rarely see kids at the comic store going through bins anymore. Usually they're buying Magic the Gathering or some other CCG. Now I have lots of theories as to why kids just aren't into comics anymore, but they're just that, theories. I figured I'd ask Brian McLachlan himself.
NdR: When did you become passionate about comics? Are you a collector, a speculator or just a passionate fan/reader?
BMc: During art college I realized I wasn't interested in making pictures that looked pretty as much as pictures that told stories.
NdR: What comics/titles do you enjoy?
BMc: For ongoing stuff I enjoy Order of the Stick, and The Dungeon series. I don't collect any monthly titles.
NdR: Do you remember how or who got you involved with comics?
BMc: As a kid, another 10 year old showed me some comics at his house. I dug them, and started spending my allowance on them. As an adult, J. Bone played a big part in exposing me to Mignola, Wrightson, McKean, and other ways of drawing comics I wasn't familiar with. J and I went to college together. He was the right person to meet at the right time.
NdR: Are kid's primary interest in comics relegated to superhero genres or are you finding a variety of interests?
BMc: Kids are not interested in super hero comics. They love super heroes for movies, animation, video games, toys, but if I do a class visit, I'm lucky if one kid reads super hero books.
NdR: How has your book's reception been met?
BMc: It's been very well received by teachers and librarians. It's been nominated for some important kids book awards like the Silver Birch and Hackmatack and won an IRA Children's and Young Adult's Book Award. It's in its third printing already. But how well it's received with 8-12 year olds is hard to know because it's an audience that isn't really tweeting, or tumblring or whatever. They're too young to be engaging with the book/author/publisher in that way.
NdR: In your opinion, have you noticed an increase or decrease in comic book interest in kids?
BMc: Kids love comics. Thanks to librarians and schools embracing the graphic novel and manga, kids are reading lots of comics. Look at Raina Telhemeier owning the charts with Sisters, Smile, and Drama. Or the ubiquity of Bone. Or Amulet. Most kids don't use the word "comic" but they like the form.
NdR: Have you ever been surprised by kids creativity when making a comic book? Can you give an example?
BMc: I'm not surprised by it. I rely on it. When I do school visits, I usually make a comics with the kids, brainstorming up 6 panels. I find they help shape new and interesting comics every time. It's a bit nerve-racking to improv like that but they've never let me down.
NdR: The future of the industry is reliant on getting new fans – and yet I feel that few are making any efforts to actually attract new fans. What do you think can be done to help build a passion for comics in new readers?
BMc: I assume you mean DC/Marvel/Image when you say "industry". For non super hero stuff, I think places like Scholastic and First Second are doing a great job getting new fans into comics. How to get new super hero fans? Give kids comics for kids. I give my own children comics from the silver age, so that they have a self-contained fun story that isn't too adult. I get 'em for a buck or two, so it's a small expense to fill a comic box for a kid. No bags or boards. This isn't about collecting, it's about enjoying. Don't put a physical barrier between your kid and reading. Even keeping them in a box isn't ideal. For new stuff,  Marvel Adventures are pretty good. Runaways was great. And Mini Marvels for the littler kids. Get those books in kids hands.
NdR: Any plans for a follow up book or perhaps other tips to help develop skills further?
BMc: No. There are lots of other books for older kids. But there wasn't really a book for the 8-12 year olds, especially one that favoured storytelling over teaching art. As they outgrow the lessons, they'll get into Scott McCloud and Will Eisner.
NdR: What does the future of the comic industry look like to you?
BMc: Lots of graphic novels and webcomics. Lots more women creators. Lots of new properties. Lots of new genres. It's pretty exciting.
I'd like to thank Brian McLachlan for taking the time to answer my questions. It's good to see kids have an active interest in comics of all forms, not just superheroes. And it's refreshing to see adults give back to the community and the hobby.
Draw Out the Story: Ten Secrets to Creating your Own Comics is readily available in bookstores and online. At ten dollars it makes a fantastic gift or even just a stocking stuffer. Again, I can't recommend this book enough. Be sure to check it out.