1001 Comics You Must Read Before You Die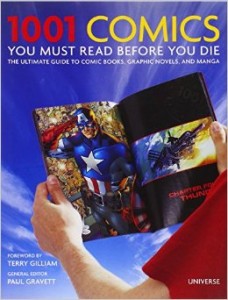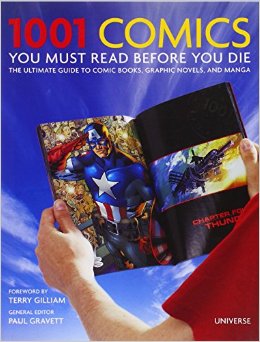 Universe Publishing – General Editor: Paul Gravett – Released: 2011
Coming in at over 900 pages of comics spanning 80+ years, 1001 COMICS YOU MUST READ BEFORE YOU DIE is a fantastic reference book and a must have for anyone looking to expand their knowledge in comics or are simply interested in what a comic from South Africa may look like. There are roughly 66 contributors all adding to the massive and varied tally. All of our favourite superheroes are here as well as well as comics from countries I was surprised to see, and Hergé – yes Tin Tin is in this…a lot!
I was lucky to find this book on sale recently. At under $20 for a book that was normally $40, it was easy to overlook the publication date. These types of books can be a double edged sword. The plus side is that you can find fantastic deals on books that are a few years old if your interest falls in a specific category such as the Golden or Silver Age. The downside is my shelf is loaded with reference and 'best of' books from the 90's and I have no idea what to do with them – (I'm looking at you, Classroom in a Book – Photoshop 3). Based on the amount of comics in this book, I don't think it'll be a problem soon. There are an unbelievable amount of comics from every corner of the planet; even New Zealand is here (but nothing from the Soviet Bloc). Articles are small but densely packed with information and its format is well suited for those looking for a quick read. This book continually surprises every time I leaf through it. Example, I found it very interesting that Citizen 13360 – an autobiographical account of a Japanese -American's experience in a U.S. internment camp, was released in 1946, Spy vs. Spy was released in 1961 by Cuban exile Antonio Prohias for EC Comics and France had some pretty kick ass sci-fi in the 60's.
It was interesting to see the countries involved and the comics covered. Even if you don't include Hergé, Belgium's contribution to comics is stunning. Although I didn't count, I'd say they are anywhere between the 3rd and 5th most represented country in this book – of course U.S. and Japan had the most comics, U.K., France and a surprising Belgium are frequently featured. What surprised me the most was just how prolific Belgium has been throughout the decades. Think about that. The only other contribution to world culture that Belgium has given us is Hoegaarden and Jean Claude Van Damme. Thank you very much.
A few other things that caught my eye: there is a surprising amount of horror comics from Japan included. I'm not necessarily a huge fan of horror comics, but I'm always open to reading them and Japanese horror films have rarely disappointed me.
I completely and utterly forgot about Astérix from France. I remember seeing these books when I was younger. I'd like to see how well they've translated over the years. Speaking of France, I've never fully appreciated Moebius. His wonderful Arzach is included and deserves a look if you're unfamiliar with it.
As far as superheroes are concerned, most of the important titles are noted. Action Comics #1, Detective #27, most of Marvels top names in the '60's but from there, it gets a little sparse. Reading why Weapon X (1991) was included in this list (one of the few superhero comics included from the '90's) gives a lot of insight into comics of that decade and the overall tone they had taken.
I could be wrong but I think everything Alan Moore has done is included.
I've always enjoyed 'sword and sorcery' comics. I don't know why but I find they translate well (better than horror in my opinion) but it seems like the only fantasy that's included are books that are very unique, like Moebius' Arzach or comics that veer into the surreal. I still think Savage Sword of Conan from the '70's is incredibly underrated.
Needless to say, this book was a surprise and it is fun to randomly turn to a page and just begin reading. It's given me a lot to think about especially when it comes to genres and popularity in other regions. It has a lot of strengths going for it, and hey, there are plenty of choices that I disagree with. Perfect for a coffee table or quite frankly, a bathroom read, anyone looking to expand their comic vocabulary or just generate discussion really should pick this up. You should be able to find it at a discounted price but to be honest, even if it were $40 when I bought it, it's money well spent.
As a post script, there was something telling that I need to get off my chest. Canada rarely appears in this book – we appear 22 times and believe me I'm reaaaaaalllly stretching it – If a creator was listed as Canadian but published in the U.S., I considered it Canadian. The majority (2/3) of those 22 contributions have been in the last 15 years. It bothers me that Canada – who's had a healthy relationship with comics, has so few publishers and those we do have are virtually unknown. I know for a fact that there are hardcore comic collectors that have never heard of Drawn and Quarterly. I personally didn't know that Dreamwave was Canadian, but they're gone now. How many publishers can you name that aren't defunct?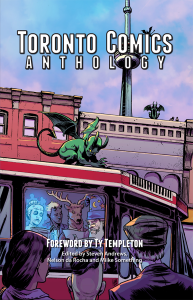 Why? Why are we producing phenomenal talent but rarely any great books? The immediate response may be that Canadians aren't interested in Canadian comics. You know, I may have agreed with that at one point but judging by the public reaction to Captain Canuck's return (and subsequent mishandling by a nameless group…) I get the impression that Canadians are hungry for homegrown work. Also, Heroes of the North has developed quite a bit of traction here and overseas.
Maybe there isn't enough talent willing to stay in Canada? Well, no that's not the reason. At risk of sounding like a shameless self promoter, a project I contributed and helped edit has had a positive response from the (limited) public. While working on the Toronto Comics Anthology (tocomix.com) we were surprised to see the quality of talent that contributed to our book. We even had a much better response when we made the call for submissions on volume 2 – due out in TCAF 2015 this May, by the way. We've had a positive response to sales, great feedback from fans, and have even impressed a few pros at conventions. And don't even get me started on Faith Erin Hick's The Adventures of Superhero Girl. I love, love, LOVE this comic! It deserves all the hype it gets.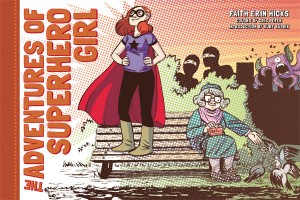 That's not to say it's all doom and gloom. Like I said, two-thirds of the Canadian comics featured in 1001 Comics You Must Read Before You Die have been in the last 15 years. That's pretty decent. Judging by the talent I've been fortunate enough to work with, that number will go up – very soon. Could Canada support its own comic publication? The kind that makes the world stand up and take notice? I'm going to say, yes.
So why haven't we?