I love me some instructional books. I'm always looking for anything that'll help me be a better comic writer and you know I've learned two things in my pursuit of the perfect book: 1) There are a lot of bad books out there, and 2) the ones that get it right, are all good for vastly different reasons. Quick example, I recently got my hands on 'How to Write Horror'. It's a series of articles from those in the industry on writing mostly novels and short stories. I stopped reading it after it directed me to other places to learn the craft. I'm not joking. One article consisted of an author's 'must read' book list with a brief paragraph of his thoughts on the book. Can you imagine buying a cookbook on steak, opening it and reading, 'get in your car, drive to a restaurant, order steak'. I don't expect to be a master horror author after reading a 'how to' book, but I expect personal perspective from those in the industry.
Speaking of personal perspective, Brian Michael Bendis' highly publicized 'Words for Pictures' gives us exactly that, lots and lots of it. There are a few things it doesn't do, but when it gets it right, it's such a pleasure to read.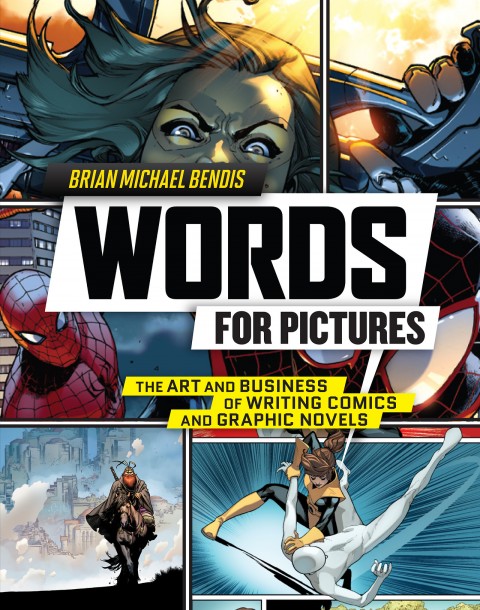 Clocking in at 205 pages of incredible insight from well-known (Marvel) industry regulars, it's larger than most books in this genre and there's something for everyone. Not only is this book essential for writers looking to break in, artists would learn much as there's an entire chapter devoted to relationships and collaboration.
First, I would have liked there to have been more detailed information as far as storytelling is concerned. I found chapter 2, the Modern Comic Script, to be a little too technical – I would have liked Bendis to talk more about what he feels makes a good story, what characters he likes, how he evolves his story, etc. But it is what it is and it is well done.
This chapter primarily deals with the scripting process as well as comic development from art to lettering to colour. It compares full script to the 'Marvel Method' and explains the advantages of both. If this is your first book on writing for comics, it will be appreciated.
Chapter 3 discusses the relationship between the writer and artist, the role of the script as a communication tool and how to collaborate. It's very informative but to be honest, it didn't give me anything unique. There are multiple forums on the internet where you can read about people's experiences, whether amateur or professional.
There is a wonderful feature where Bendis asks artists questions about what they look for in a writer or script. It's an excellent read and I wish he had done something similar with writers. It gives the artists a refreshing humanity that I often forget about. Dirk Manning did something similar in his book, Write or Wrong and it's fun to see all the vastly different answers to any question.
Chapter 4 deals with editors. It explains the relationship and he asks editors common mistakes they see from those looking to break into the industry. Strange that I can find many examples on the internet about collaborations with artist and writer, but when it comes to dealing with editors, not so much. This chapter alone is worth the price of this book. It's unique, thorough and refreshing. I cannot recommend it enough and anyone looking to get into the industry owes it to themselves to AT LEAST read this chapter for perspective. I don't want to give away too much, I loved it that much!
Chapter 5 is a Writer's FAQ. All questions were pulled from Bendis' Tumblr. I follow his Tumblr, I didn't see any question I haven't read already, but there is some insight into Bendis' work habits and passion. Personally I don't like paying for something that's readily available for free and I do like Bendis, so why wouldn't I follow his Tumblr.
Chapter 6 is another reason to get this book, the business of writing comics. This chapter is full of important information about contracts, conducting yourself professionally and everything else you don't want to deal with but should! It's a wonderful addition that is, again, unique and refreshing for these types of books.
This book is beautiful to look at and for $30 an unbelievable deal considering the information Bendis shares. I highly recommend it for anyone interested in learning the craft. I have yet to come across one perfect book that encompasses all, however 'Words for Pictures' does offer much originality in a growing crowd of 'How to' books. I'd easily rank this as a 'Must Read'.
So until next time…