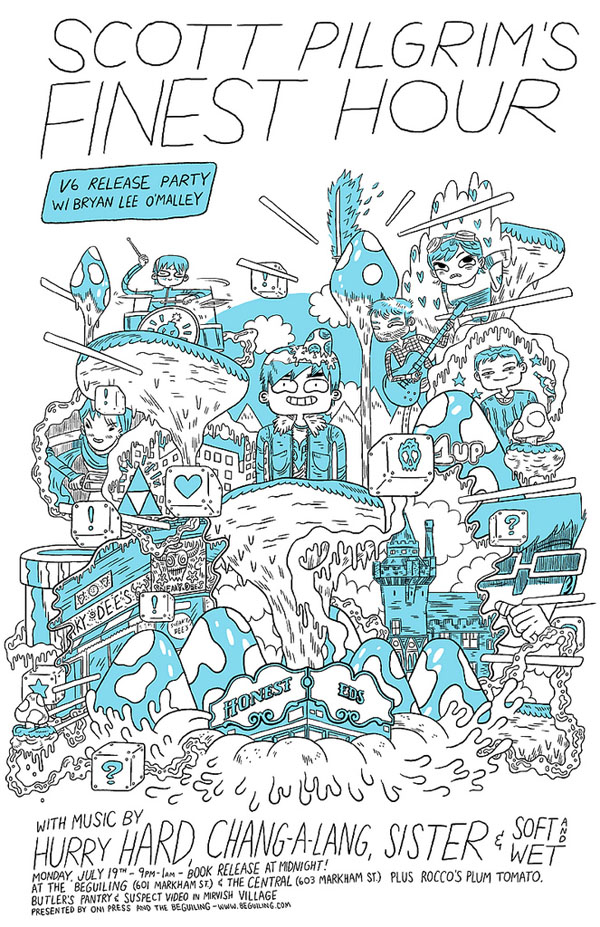 On Monday night, I had the pleasure of attending the midnight release party of the sixth volume of Bryan Lee O'Malley's Scott Pilgrim series, Scott Pilgrim's Finest Hour. A tad sad to learn that I would be going alone earlier in the day (there was no way I wasn't going to miss the book release party for the final volume at the place where it all started back in 2004, with the release of the first volume, Scott Pilgrim's Precious Little Life), I was happy to discover that Jill would be attending the event as well.
Sadly, neither Jill nor I could make it for anytime earlier than 10pm (she had a class that evening and I was diligently towards completing the first draft of my literature review (the first draft of my MRP is due next Monday, people!), so we decided to meet up at Honest Ed's (Bathurst and Yonge).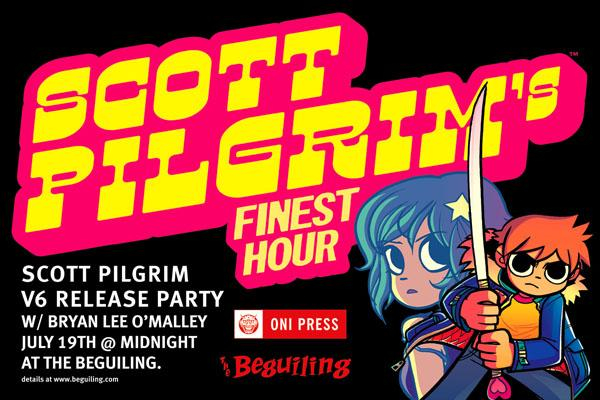 Now, the start of the evening was a mixture of sensory memories for me. I got to our meeting spot a little early and there was just something about the spot I was in reminded me of some warm but muggy summer nights in my past. They weren't bad memories, mind you, but I felt myself getting a little nostalgic for the past (which, looking back on it, has been predictably over-romanticized).
The launch party was a blast. I guess the closest thing I could come up to as a comparison is that it was a giant street party for hipster geeks (or, Scott Pilgrim-heads as some folks have been calling them).  Markham Street had been turned into a pedestrian-only zone (much to the chagrin of a couple of cars who had decided to attempt to drive down the street) and the Annex was a great big love-in for everything Scott Pilgrim.
The costumes were very well done, however, the presentation sucked as I couldn't see a thing! Winners were bestowed with a most awesome prize: pre-release copies of Mighty Fine's Scott Pilgrim vs the World t-shirts! Despite cursing my shortitude and the crowd obstructing my view, I did catch most of the cosplaying fans just hanging out, waiting for midnight to roll around. My personal favourite cosplayer was a guy decked out as the ultra-fabulous Wallace Wells – complete with his own little caption introduction and martini glass!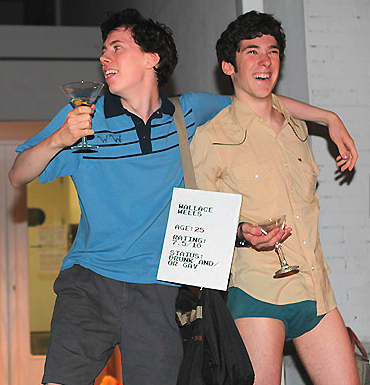 The Beguiling was open late and, to kill time, Jill and I browsed. Across the street, Rocco's Plum Tomato (585 Bloor Street West) was hosting a listening party. But not just any listening party…the world-exclusive premiere of the soundtrack to the Scott Pilgrim vs the World. I've used the word "awesome" quite a bit in this article and I don't want it to lose its ability to communicate the sheer awesomeness that was the evening, but…oh, my goodness, it was so awesome! (I know. I really, really need to buy a thesaurus; or start writing my articles when I have internet connectivity so I can use one online.)
At ten seconds until midnight, we started the counting down the seconds and it felt like New Year's Eve in July.
I have to hand it to The Beguiling staff who handled the release of the book exceptionally well. Since all the books had sold using  pre-pay ticket system, all the staff had to do is take a ticket and hand out a book. It made things speedy and go so smoothly! If I'm ever involved in the planning of one of these, I'll definitely be stealing that idea.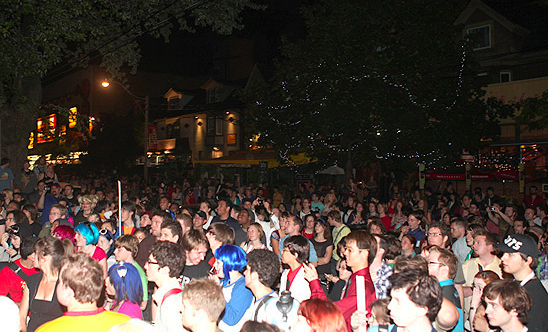 At some point that night, I texted myself the note "It was like we were the bastard (but uber-cool) offspring of a horribly ill-advised mating of the Harry Potter and Twilight fandoms. ("The horror…the horror!)" I mean, it's not often that you get a midnight release of a comic book/graphic novel and it was…nice. I suppose the closest comic book/graphic novel release I can think of that would even compare to the excitement on Monday night would be when new volumes of The Walking Dead come out and everyone and their zombie grandmother is out on a Wednesday (AKA New Comic Book Day) for a copy.
I suppose I got a bit of that jumpy excited feeling on Monday night. And that was really nice. It was something I had never experienced before.
Granted, the only other midnight release I've been to is for the seventh Harry Potter book and that was a fluke. I was driving to my Mom's (I had to work at the comic book store the next day and I was going to pick it up my copy on the way to work the next morning) from an evening out and I drove by Indigo, which was still open. I figured it was probably easier to pick it up then and popped into the store and bought it. The experience didn't feel all that different than it would have if I had stopped the next morning (though shopping for books at 1am is kind of exciting) as the festivities were geared to kids and tweens.
To be fair, I was never that invested in the Harry Potter fandom. And I refuse to read or watch any of the train wreck that is the Twilight-saga. (I read the recaps online and had a front row seat to the (Fandom) wank that erupted after the fourth book was released.) And it's not that I'm the biggest Scott Pilgrim fan, either. Don't get me wrong, I love the books (even if I did wait until the sixth book was almost out before reading them). I guess what I'm trying to say about the whole experience is that it was really nice for us comic book/graphic novel geeks to get an event like this for a change.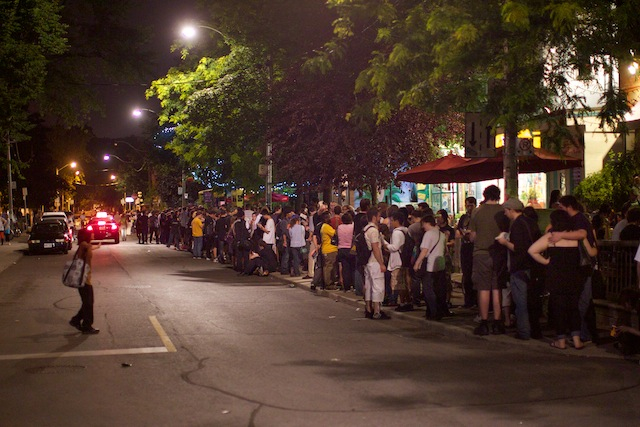 I wasn't surprised when I heard that there were about 2,000 of us who came out to celebrate the launch, either. Though the street was packed with throngs of people, a lot of the were lined up, patiently camped out since early evening (you could tell, they had prepared for a long wait). Nintendo DSes were plentiful as a way to kill the time and most of them were in large-ish groups to keep each other company).
Scott Pilgrim creator, Bryan Lee O'Malley, hosted two signing-slash-meet-n'-greets, the first from 8pm until 9:30, and the second began at 12:01am (just after the book had been released).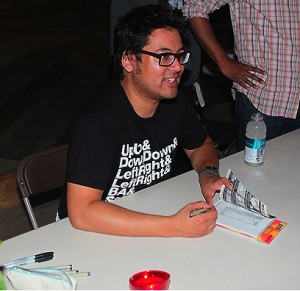 I couldn't stay to get anything signed (I had to catch my bus back up north). Jill, however, ended up hanging around with a couple of her friends who had taken a spot in the giant line – that had already overflowed off of Markham Street, snaked on to Lennox Street and, at one point, was almost all the way to almost back to Bathurst! Jill reported that they didn't get to the front of the line until 2:15 or so, and that there were still people lined up around the corner.
Kudos to Bryan Lee O'Malley (who was wearing a
Konami Code
t-shirt!) for staying out and signing – by candlelight, no less – until 3:45am! You are one classy gentleman. (I firmly believe that you can tell a lot about a comics creator by the way he (or she) treats his (or her) fans.)
I walked back to the subway about 12:30am and watched as people started to read the book. They were so excited to get it that they were resolved to have it finished by the time they got home. I love that feeling. When you've finally got the book that you've been waiting for in your hot little hands. When you're so excited that you have to read it immediately (before you explode).
This image followed me to the Union Station Go Bus Terminal (and then on the bus ride up north) where about 90% of the crowd had a copy of Scott Pilgrim's Finest Hour (which had an initial print run of 100,000)!
Shelley Smarz is a business woman by day and a comic book scholar by night. She's attending a recruiting event for one of the companies she wants to work for (when she has to leave the hallowed halls of academia at the end of summer) next week, so wish her luck, eh? She really needs it. She tends to lack the social graces most people have and tends to make an arse out of herself (and, unfortunately, it's not in an endearing way either, it's just kind of sad and pathetic).