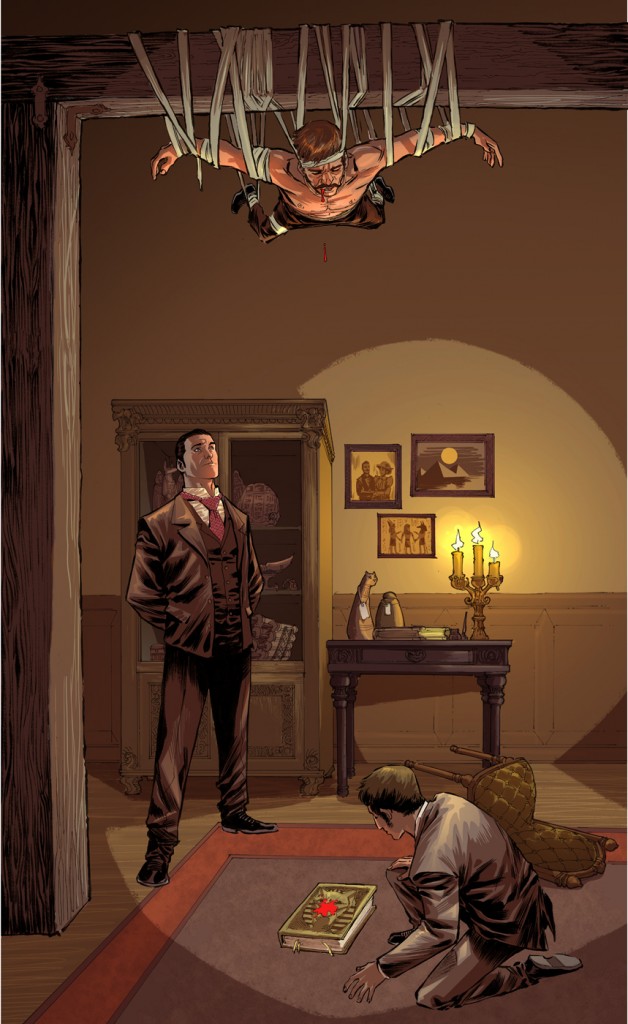 Murdoch Mysteries: The Curse of the Lost Pharaohs is an exclusive 13-part original online series. A creative hybrid of live action (featuring all the stars of the series) and animated illustrations by Francis Manapul (The Flash), this web series is a deliciously over-the-top take on Murdoch Mysteries. This unique transmedia metanarrative has also been woven into the narrative of the fourth season of the series (airing on CityTV, Wednesdays at 9pm) and was launched on June 7th, right after the episode aired.
Now three episodes in  (each instalment so far has only been 2-5 minutes long), the series brings to life Constable George Crabtree's (Jonny Harris) first novel, The Curse of the Lost Pharaohs.  Starting with the discovery of seven dead members of Toronto's Egyptology Club, mysteriously killed after opening a sarcophagus that had been smuggled into Canada from Egypt. The webseries detail the efforts of Crabtree (who envisions himself as a Detective) and Detective Murdoch (Yannick Bisson) as they try to solve the mystery (aided by the pugilist, Inspector Thomas Brackenreid (Thomas Craig), and the lovely Dr. Julia Ogden (Helene Joy)), defeat the mysterious villain Sekhmet (Egyptian Goddess of retribution), and figure out how this all fits into Queen Victoria's secret visit to Toronto.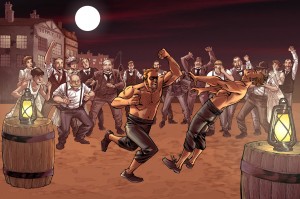 With tongue planted firmly in cheek, The Curse of the Lost Pharaohs is a self-aware penny-dreadful that avoids the pitfalls of taking itself too seriously. There's this awesome campy feel that, rather than being like the 1960s TV-version of Batman, makes the adventure quite epic (not to mention entertaining).
Altogether, the first three episodes have succeeded in introducing us to the reimagined narrative universe and its characters (to both established fans and new viewers). Action-packed and kind of whimsical, it has excelled in building up an awesome (and fun) mystery story that grabbed me by the end of the very first scene. My only critique? It's so engaging that I am now waiting, on the edge of my seat, for the next webisode.
Also, I should probably mention…MUMMIES!
Shelley Smarz is a comic book scholar and business woman. She's pleased to have her MacBook Pro in working order once again, after only being out of commission for the better part of a week. Extremely grateful for the awesome dude at the Genius Bar at the Eaton Centre for all the help, even if they were running a little behind. Though it's still got a lot of life in it (Apple products FTW!), she has started a "replacement fund" as that s?%t's expensive.