"DEAR DOC CURMUDGEON" IS A COLUMN BY CLINT McELROY, MADE UP OF COMPLETELY FABRICATED RESPONSES TO MOSTLY FABRICATED QUESTIONS. BUT YOU KNEW THAT, DUE TO YOUR DISCERNING NATURE AND BRILLIANT MIND WHICH WOULD NEVER FALL FOR A COLUMNIST TRYING TO BUTTER YOU UP…UNLESS YOU'RE INTO THAT.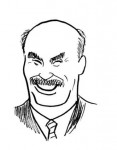 Dear Doc Curmudgeon,
    I'm man enough to admit when I'm beat, and ole buddy, I AM BEAT. I'm hoping you will take this case cause I just don't know what to tell these kids. I got this husband and wife, DAVID AND MEREDITH FINCH, nice couple. They are gonna take over WONDER WOMAN. Meredith  doing the writing and David doing the art. Spouses working together? You know what happened when JOY and I tried it a couple of years ago. So I am at a loss. Will you take over and give these two the advice they need on how to keep their relationship strong?
SINCERELY,
DR. PHIL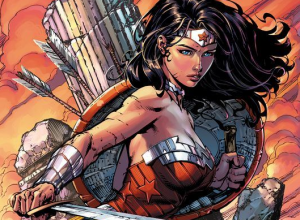 Now you want my guidance? When I told you to look into hair plugs you paid no attention!
Fortunately, I have experience with this subject, because I actually do work with my wife. We do a radio show together, so I know EXACTLY how to advise this pair on how to stay together in the demanding world of Comic Book Creation.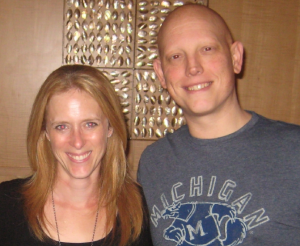 Let me start with you, MEREDITH…
–He will ALWAYS forget to close the lid of the white-out. He won't even notice the messy little drops he leaves all over the place
–He will never admit to looking at porn. He will tell you it was Anatomy Study.
–If he doesn't know how to draw something he will NOT ask for directions
–He won't think to clean the little hairs out the sink when he trims his brushes
–Don't get upset if he brings up his exes ("Well, BRIAN MICHAEL BENDIS never complained about my speed-lines!")
–No matter how hard you work on the storyline, he will STILL think his mother plots better.
As for you, DAVID…
–She will want to know if she died, whether or not you would do WONDER WOMAN with somebody else.
–Your Honey-Do jar will be filled with things like CLEAN UP THE BACKGROUND ON PAGE SIX, PANEL TWO.
–If you are too quiet, she will ask what you are thought-ballooning about.
–If you have a story conference, and you finish first, don't just roll over and go to sleep.
–When she catches you reading RED SONJA, she will get accuse you of thinking GAIL SIMONE writes prettier than she does.
–If she asks you: "Does this character development make my butt look big?" DON'T ANSWER!
Just follow these guidelines, and you two will be writing WONDER WOMAN for years to come…
…Or until DC launches the NEW New 52.
IF YOU LOVED WHAT YOU JUST READ, LEAVE A COMMENT, OR BETTER YET, SEND A MESSAGE TO [email protected]. IF YOU DIDN'T  LIKE WHAT HE WROTE, SEND A MESSAGE TO mxyzptlk@ kltpzyxm. OR, JUST FOLLOW HIM ON TWITTER @doccurm.