Well, folks, I must say that I wasn't expecting last month's column, "A Spectrum Publications Checklist," to receive such an enthusiastic response from readers. It obviously struck a chord. Quite a few people commented and numerous others contacted me privately to discuss the article and to talk about the comics in more detail. As a result, I have some additional material to share.
Last month's column was also one of my longest (in terms of word count) published here at Comic Book Daily. I considered splitting it into two parts but decided that the subject matter warranted a single column. As a result, this "addendum" is certainly not something I originally planned.
To flip things on their head, this will be one of my shortest ever columns for Comic Book Daily. Our first multi-day event since Hal-Con 2019 is happening this month and we have a lot of work to do to get ready (more on the event below). When the pandemic began, we converted as much of our inventory as we could to online and everything else went into storage. Despite the fact that we have vended at a record fair and a couple of other one-day events in the past couple of months our inventory is not ready for a big event. As a result, we are overwhelmed and everything else is on the back burner. I will be taking a break from this column next month and will return with a new article in October.
---
After last month's column, one of the people who reached out to me was Mark Ammerman. Ammerman contributed at least one issue of With Pen and Brush (# 2) and was actively releasing his own fanzines in the USA as early as 1969 when his fanzine Comic Courier debuted. Comic Courier would last for seven issues before ceasing production in 1972.
In addition to Ammerman contributing to With Pen and Brush, Vincent Marchesano contributed some of his own fan artwork to 1971's Comic Courier # 6. The fanzine was dedicated to one of Ammerman's favourite Golden Age characters, Blackhawk, and Marchesano's rarely seen drawing of Blackhawk and Lady Blackhawk became its cover.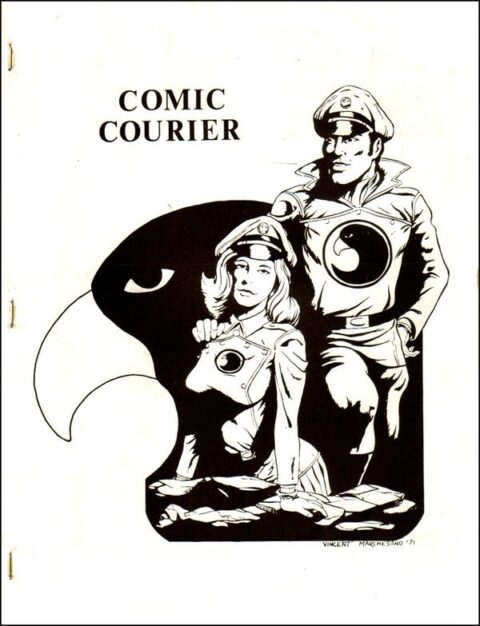 Ammerman would become a professional graphic designer in 1975 and has had an interesting career in various mediums. You can check out what he is up to at his website. One project that he is currently working on is an anniversary edition of his fanzine (that he is calling Encore). This new fanzine will include some previously unseen Marchesano art. I hope to be able to discuss Ammerman's new fanzine once it is ready for publication.
In addition to hearing from Ammerman, I also had a conversation with one of the key figures from Spectrum Publications: Art Cooper. Some of the discussion can be seen in last month's comment section, but much of what we discussed was via email.
Part of our discussion helped to fill in my lack of information about The Spectrum # 7. According to Cooper, the comic was released in January/February 1973. This is the only issue of The Spectrum that is not a mini-comic. It was instead released as a forty-eight-page (including covers) magazine-size comic that is almost exclusively content created by Marchesano. At the time, Cooper was halfway through his first year as a cartooning student at Sheridan College, while also playing on the college's football and basketball teams. Meanwhile, Marchesano was working full time and had a number of other commitments. Both of these men were wearing many hats and apparently had spread themselves too thin to continue with Spectrum Publications. The increased costs of the comics and a lack of free time meant something had to give.
Cooper became disillusioned with the career prospects of cartoon and switched to engineering at McMaster. Marchesano, on the other hand, was running Hamilton's Broadway Theatre, which according to Cooper was, "more than a full-time job." By the mid-1970s, the two men had pretty much lost track of each other.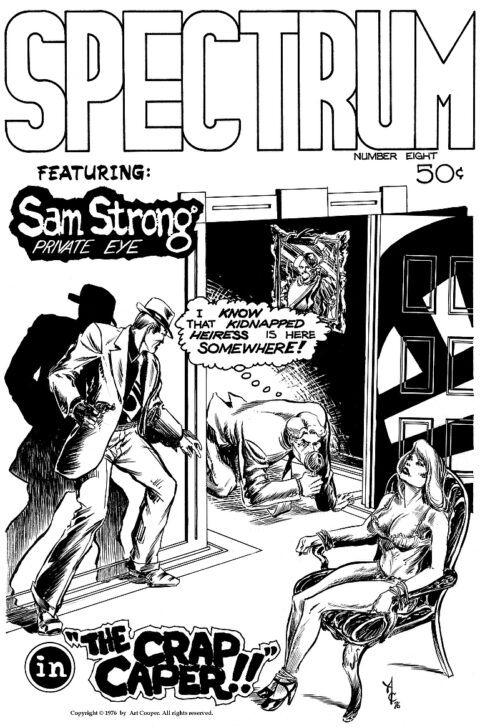 Cooper was kind enough to send me scans of some artwork that I had never seen before that I am excited to share here. The first piece is the cover from The Spectrum # 8, which would be released in 1978 as The Crap Caper (which I discussed last month and consider a hidden gem of the Canadian Silver Age). Cooper explained to me that The Crap Caper originally included a single 8 ½" x 11" insert that had the front cover occupying about two-thirds of the page with an editorial explaining his decision to emulate the Spirit sections. Unfortunately, Cooper does not have any remaining examples of this insert and it is missing from the copy of The Crap Caper/The Spectrum # 8 in my own files.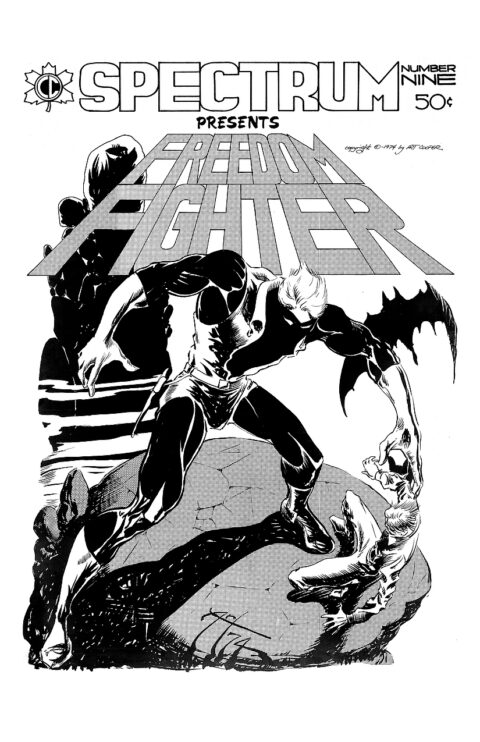 Additionally, he shared the cover for the unreleased The Spectrum # 9, which would have focused on the Freedom Fighter character. It's unfortunate that this was never released, but life got in the way and, ultimately, Marchesano and Cooper moved on to other projects. Nevertheless, it is impressive what these men were able to accomplish together in the early 1970s and this is an important (albeit often overlooked) example of early Canadian comic fandom. Maybe someday we will see all of this material reprinted in graphic novel form. It is worthy of such a tome.
---
I also received a couple of queries about a comic that Marchesano contributed to in 1982: Charlton Bullseye # 9. Although this comic is not on my master list of Canadian Silver Age comics, an argument can be made that it should be. In all honesty, I only learned about this comic recently and have yet to acquire a specimen for my files. As such, what follows is merely a cursory overview.
Someday soon I will write an article about James Waley's seminal science fiction anthology comic magazine Orb, which ran for six issues from 1974-1976. As I mentioned last month, both Cooper and Marchesano contributed to issues of Orb. Fans of the magazine know that a seventh issue was planned, but was never released, as it was advertised on the back cover of issue # 6 and would have featured a barbarian character named Bludd.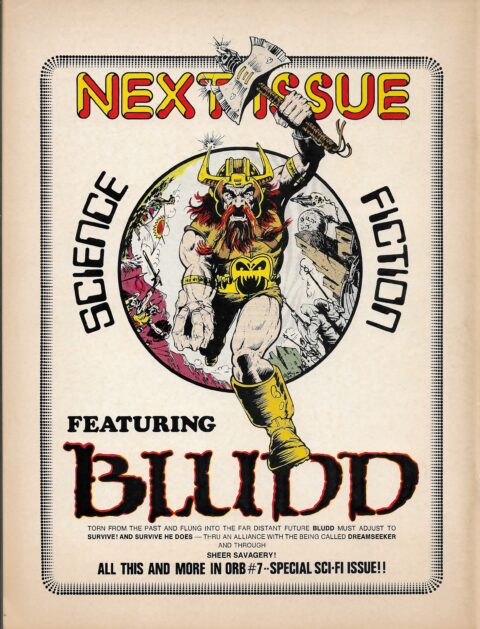 From what I understand, Bludd was created by Waley. Based on the advertisement on the back cover of Orb # 6, I assume the plan was for Gene Day to draw the comic. Ultimately, this did not come to fruition and languished for years before being published by Charlton in September 1982. Somewhere along the way, Marchesano became involved and completed the artwork for the story. According to some sources, Gene Day contributed approximately seven pages of artwork Charlton Bullseye # 9, with Marchesano contributing most of the remaining artwork.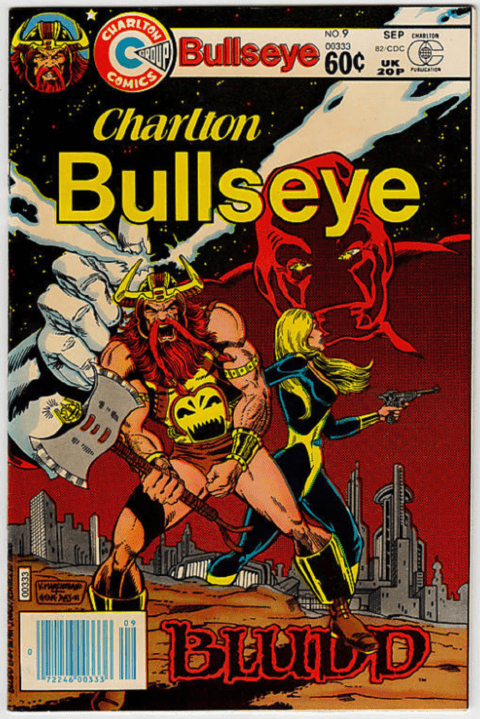 Bludd is a very interesting slice of the Canadian Silver Age that I hope to explore in more detail down the road. That said, I only mention it here because some readers inquired about it. It is not connected to Spectrum Publications in any way and is instead a missing piece of the puzzle for fans of Orb magazine.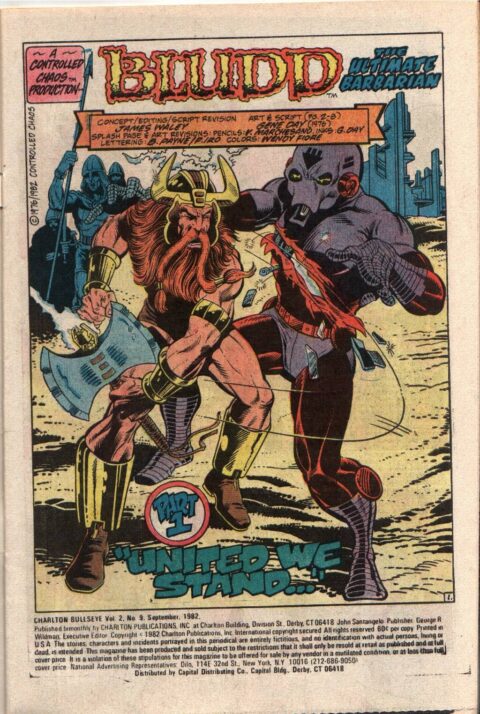 This concludes this short look at some supplementary material that I thought was pertinent to share after last month's overview of Spectrum Publications. I hope this helps to fill in some blanks for everyone. Thank you to both Art Cooper and Mark Ammerman for reaching out and offering additional information about Spectrum Publications. Have a great summer and see you all again in October!
---
We will be shutting down the East Coast Toys and Games eBay store on August 15th or 16th in order to attend the giant New Brunswick Antique Auto Club (NBAAC) Flea Market in Sussex, New Brunswick at Princess Louise Park. This year's event is open to the general public from August 19-21. Pandemic aside, we have been attending (in one capacity or another) since 2002. Don't let the name fool you: despite starting as an antique auto show almost four decades ago, this open-air flea market is a three-day extravaganza featuring almost 1,000 vendors selling everything you can imagine. Considering travel and tear down, our eBay store will likely be closed for more than two weeks and I will not be responding to messages for most of the month of August.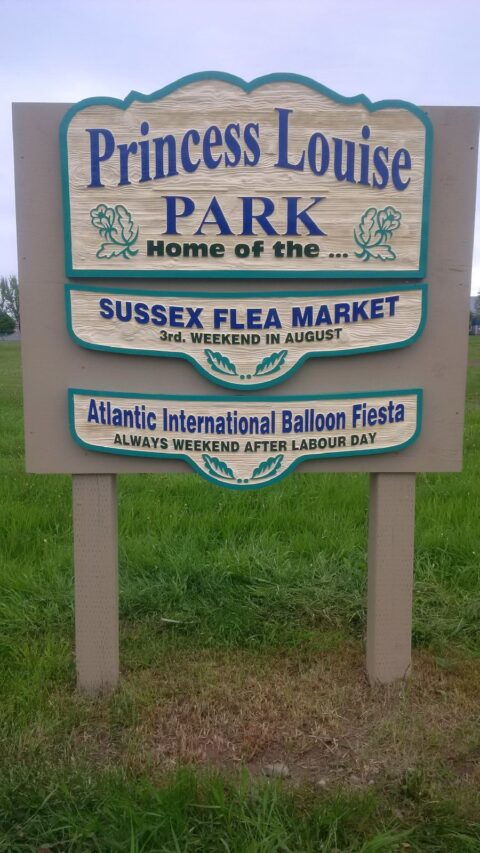 If you have attended the event in the past, we will be at our usual spot (lot H8) with our special guest and fellow Haligonian geek business Lost World: Games, Toys, and Records (and its enigma of an owner, Richard "Rick" Silvert). We will have a large spread of comics (golden to modern age) with a variety of collectible toys, movies, video games, records, and other bits. If you are going to be in New Brunswick during the third weekend of August make sure to check out the NBAAC Flea Market and come see Tania, Rick, and me. It's been a long three years and I'm looking forward to seeing all of our regulars in person again. We will post additional details on the East Coast Toys and Games Facebook page when we get closer to the event. Hope to see you there!