An excellent article on The Forbidden Planet site from Richard, a regular contributor who is also a grade school librarian. Through knowledge, contacts in the industry and dogged determination he's managed to build a substantial graphic novel section.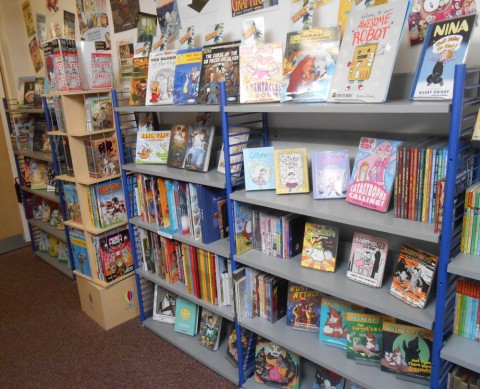 I mercilessly played upon any contacts I had with artists and publishers, blagging loads of donations, and seeing box after box of donations come through impressed my great headteacher so much that she upped the library budget. And since I've become something of an expert at finding good quality prose books in charity shops for the fiction shelves, a lot of the expanded budget ends up on graphic novels.
The article has excellent photo coverage of the library. I found it interesting the way he's worked promo posters into the overall display. I did select the title from the quote below to tantalize and spark interest, so here it is.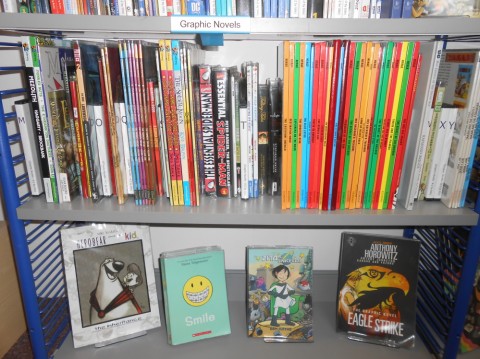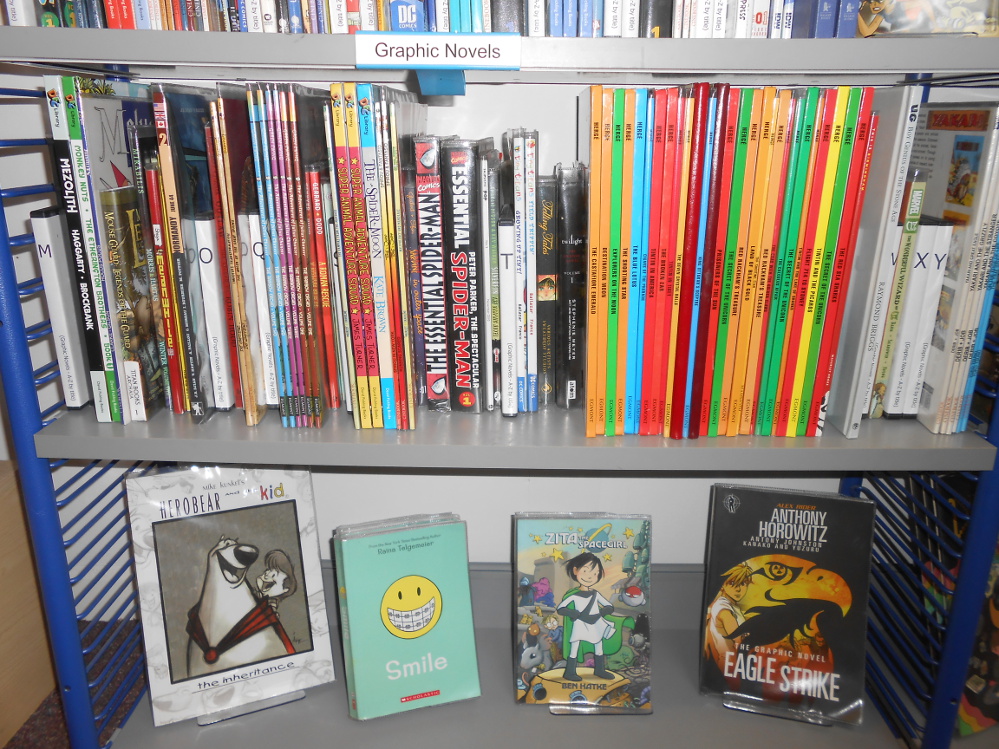 I wanted to get some superhero comics in (and isn't it fantastic that I could have done it without any of them – imagine saying that a couple of decades back?) but it's been really surprising to see the circulation figures for them; nowhere near as popular as much of the rest. So much so that I'm concentrating on everything but superheroes now, and have done since we first stocked the library. It's only anecdotal evidence sure, but present them with a wide range of material and superheroes just aren't the things they go for. Interesting comment from one child I asked about it; they'd rather go to see superheroes at the cinema than read about them.
It's incredible how the medium has grown and developed, to the extent that comics could be referred to as something over than superheroes and comprise such breadth of material.
Whenever possible the graphic novels have a thick plastic sleeve over the cover, but wear and tear of softcover books is an inevitability. I've read that these type of books start to fall apart after ten checkouts or "issues" as Richard refers to the process.
I'm sure I read somewhere that 29 issues is about the maximum for books in a public library. After that the books get too tatty to be loaned anymore. Well, see that copy of Raina Telgemeier's Smile on the bottom shelf? We have 6 of them now, and this is one of the oldest, and getting near the end of its life…. 51 issues.
If you have graphic novels in your collection that have only had one read and you're looking to give them a second life consider donating to your local school or public library. Please call or email them before showing up with the books.