Once again the stack of minicomics that I can't wait to tell people about is getting deep. Here are a few that won't leave my brain alone.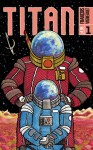 TITAN #1 by François Vigneault
Originally published at Study Group Comics, this book is now available in a handsome printed minicomic edition at www.family-style.com (Site seems to be down at the moment.)
TITAN supposes that in some version of the future, humans have explored the Saturnian moon Titan and found natural resources there valuable enough to install a massive, generations-long mining project. Because Titan's gravity is a fraction of that of Earth, the miners have been "genetically altered to work in harsh, low gravity conditions," which for some reason makes them nearly twice as tall as an average human. The somewhat disgruntled, unionized workers at the facility tower over the protagonist, MNGR João Da Silva, a "Terran" inspector sent to Titan for… complicated reasons. On Titan, Da Silva is paired with Phoebe Mackintosh, a Titan worker. For comic book characters, the pair develops a lot of chemistry in this first thin volume. The story is only beginning to unravel by the end of of the book, which contains parts 1 and 2 of the story. I'm looking forward to future episodes in this book, which will probably appear on Study Group first.
The book's printing is top-notch, from the painted covers to the spot-colored newsprint interiors. Vigneault's lines are generous and his characters friendly. The book is beautiful on its original webpage, and somehow even better in the printed edition.
THINGER DINGERS by J.T. Yost
For $3, THINGER DINGERS by J.T. Yost is a bargain. Collecting bits and pieces of comics previously published in other collections, this minicomic offers a nice cross-section of this creator's work. Inside you'll find tales of hellish roommates, a romantic comedy involving pigeons, the rise and fall of an alter ego, and not-so-dead bodies. Yost is a talented cartoonist, and his little slice-of-life comics are a nice break from the heavy genre works that I usually read. Yost is also the founder and main proprietor of Birdcage Bottom Books, and I highly recommend perusing the wares offered there. High-quality online comics shops like these are why I almost never have extra money sitting around.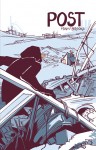 POST by Molly Brooks
Available at Molly's site
Molly Brooks' self-published POST is available in full on her website, but I would almost insist that you go ahead and buy a printed copy from her. Brooks employs a playful line but her figurework is rock solid, and her paneling displays a knack for movement and suspense. She also employs a beautifully limited color palette, which is reproduced quite well in the copy I received.
The book itself is a post-apocalyptic sort-of love story about Genevieve, a woman who is slowly piecing the world back together in little ways, from blowing glass to printing DIY self-help zines that she distributes to other survivors. She receives several anonymous packages from a secret admirer via a freelance courier, Alice, who slowly starts helping her around the shop when she visits. Genevieve is an inspiration, a departure from the usual grizzled post-apocalyptic characters who are often bent on survival and little else. She is downright cheery. That's not to say that POST lacks thrills or post-apocalyptic danger, but when you put it down you'll be filled with a nice warm fuzziness that you don't usually get from these kinds of stories.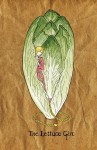 THE LETTUCE GIRL Pts. 1-3 by Sophia Wiedeman
Available at Sophia's site
Sophia Wiedeman's THE LETTUCE GIRL is a fun retelling of the Rapunzel story, complete with witches and towers and long, braided hair. But there's more here. We get to see a witch talking to another fairy-tale witch about day-to-day witch stuff, and we get to see Hazel struggle with her captivity in the tower. In addition, there's a witchy test tube baby and a sea serpent who seems pretty OK but is in the forest for some reason.
Wiedeman's linework is simple, but her characters are expressive. Her pages featuring the sea serpent are my favorite, and as Pt. 3 ends of a cliffhanger involving another witch and an oven, I'm hoping the serpent shows up again soon.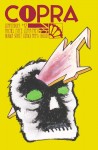 COPRA Compendium 1 by Michel Fiffe
Available at Bergen Street Comics
Michel Fiffe's COPRA is part Power Rangers, part GI Joe, and part 80s action television show. But to simply list the inspirations for COPRA is to do it a disservice. The book is a frenetic love letter to the medium, and even more impressive when you realize that Fiffe is producing this full-color indie comic by himself every month. The compendiums collect three issues at a time, and there are two compendiums available. (I have only read the first at the time of this writing, but I fully plan to get the next one soon.)
COPRA is violent, beautiful and a screaming good yarn. Some pages seem like they could be ripped from the back of a middle schooler's composition notebook (in a good way), while others feel like they could have been ripped from a gallery wall. Each page is somehow better than the last, and although the story can be confusing at times, I can't wait to keep reading.