In a recent Jiminy Christmas I had a nice heartfelt memory of store appearances by comic creators, meeting the fans and sharing in the comic spirit.  With eager anticipation I went to a store signing recently where two local artists were appearing, Jeff Lemire and Scott Chantler.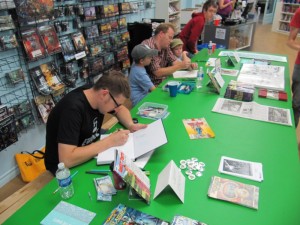 Here's a nice picture of both creators working away at sketches.  Jeff Lemire is sketching for free while Scott Chantler has a sign that says "sketches $25". What?
I stood in awe and wonder as I stared at the sign.  Is it possible that an artist appearing at a store signing would be charging for sketches?  I had a nice Lemire Dr. Fate sketch from a previous store appearance he made in Hamilton so I didn't want to take any of his time away from fans that were seeing him for the first time.  You can probably guess if I approached Chantler for anything.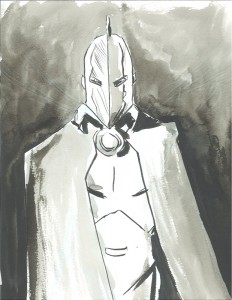 Since then I've been contemplating the whole episode.  Are creators compensated for making a store appearance?  Perhaps, but it's more of a goodwill "give back to the fanbase" kind of move.  There's a big difference between a convention appearance and a store appearance: the con lasts for days and the creator is rarely paid to be there so they make up for it selling goods and services, like stacks of their books and sketches. Store appearances are usually for a few hours at a local comic shop, either the creator's local shop or someplace not too far.
I can see where Chantler's coming from: he's not a big name and like the rest of us needs to put food on the table.  To be honest I'm not sure if he charged anyone that day, but the sign was there and that made me stop in my tracks.  This is a dangerous precedent: am I crazy or should signatures and sketches be free at a store appearance?  Chime in below.