Advertising is important in any form of media.  It either brings us our entertainment for free, or at least at a reduced cost.  I don't have any hard data on this, but it feels like there is more advertising in the "Big Two's" comics.  Other publishers like IDW do not have advertising in their books, but they normally sell at a higher price on the shelf compared to the basic $2.99 comic book.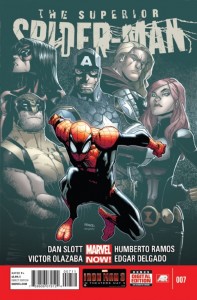 Recently when I was reading Superior Spider-Man #7 I noticed something odd about the advertising in the book.  Most of the ads were about Spider-Man, but the ads appeared to be targeted at "primary aged" children (by that I mean kids 6 to 8 years old).  Superior Spider-Man is a T+ (teen plus) rated comic.  I severely hope that 6 year olds are not reading that comic.  Superior Spider-Man has a very different tone compared to other Spider-Man comics.  This new Superior Spidey has put many of his foes in the hospital, and he has even killed one of his enemies.  It's hardly the proper reading material for a little kid.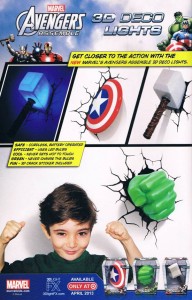 So why is this advertising in this comic book?
The only idea I could come up with is that Marvel's advertising department is trying to target the adult readers, who have children who are 6 to 8 years old.  It's the only idea that makes any logic.  Superior Spider-Man should have advertising that is targeted towards the "Stridex" and "X-Games" crowd, not using advertisements better suited for a Super Hero Squad comic book.
I wanted to look into this farther so I headed down to the good ol' local comic book shop to peruse the shelves to see what I could find.
The first book I looked at was Avenging Spider-Man #19.  It has the same June 2013 cover date, so logically it would have been printed at the same time at Superior Spider-Man #7.  It's ads consist of a Dr. Pepper 10 "Manly" Calories ad, Iron Man PG-13 Blu-Ray animated movie, C2E2 Expo in Chicago, an ad for Iron Man 3 and another Dr. Pepper ad featuring Captain America.  In my mind the readers of Superior Spider-Man are most likely reading Avenging Spider-Man, and there is a huge difference between those ads.  In my mind, one is geared towards the 18-35 crowd, while the other is aimed at the 6-12 crowd.
The next Teen + title I looked at was Fantastic Four #6.  It also has the June 2013 publication date.  The ads in it, were the same as the Superior Spider-Man ads.  Ads geared towards children.  Fantastic Four doesn't have the same level of violence that Superior Spider-Man does, and I wouldn't have a problem with my children reading it, but why doesn't it share the same ads as Avenging Spider-Man #19?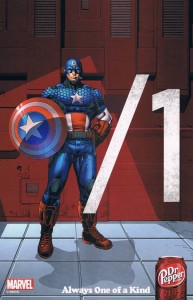 The final issue I looked at was Winter Soldier #17 June 2013.  This book has the Dr Pepper/Iron Man/C2E2 ads as well.
Was this intentional planning on Marvel's part?  Are there two different advertising schedules for comics?  Did one set of ads, just happen to be targeted towards children?
I may be making a big deal out of nothing, but I felt very strong about this issue.  When my kids read comics, I check them over before hand, so I know what is in the comics.  I know there are a lot of parents out there who don't do that.  I'm hoping that bringing this up, there is one parent out there, that when they are flipping through the book and see a bunch of ads meant for little kids they don't mistake the book as having appropriate content for children.
Spider-Man isn't the loveable friendly neighbourhood wall-crawler we used to know.  The tone of the comics have changed and I just hope parents out there realize this, and don't just let their kids read them without checking the content first.
And if the Marvel marketing department is trying to reach a broader audience, I just wish the advertising made sense and lined up with the content and rating for that particular comic book.