That's right.  I was on vacation this week.  So I haven't had much time to write a column.  I didn't bring any comics with me either to read during my down-time.  I could have easily finished my Thor Walt Simonson Omnibus, but I left it at home.  It was a great vacation and I spent some great quality time with my wife and kids.
While I was on vacation I didn't even check CBD once.  I don't have a laptop so my only internet surfing I could do was on my old trusty Blackberry.  I was out of the loop completely on all the comic book news.  The only source I had for information was Twitter and Facebook.
And I couldn't believe the information I saw on Twitter.  It was enough for me to yell "Yippee Kay-Yay Mother…."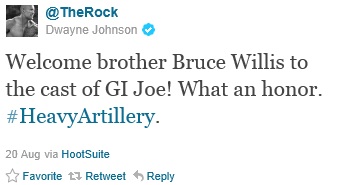 That's right.  The Rock announced that Bruce Willis has joined the cast of G.I. Joe Retaliation via Twitter.
This is big news.  One of the greatest action movie stars of all time has joined G.I. Joe.
The Rock also released a picture via Facebook of him on the set of G.I. Joe 2.  He looks bad-ass in the picture, and he's going to tear up the screen as Roadblock.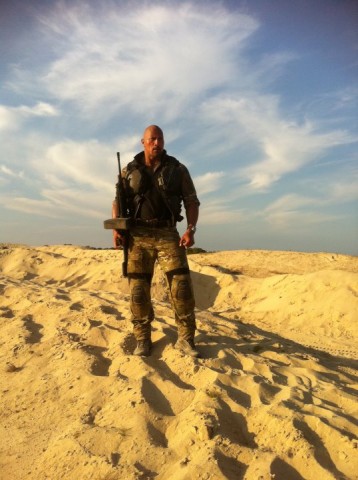 The other news I saw was Jon Chu released a picture of the G.I. Joe 2 movie hat.  It shows the logo for the movie, which happens to be the logo for Rise of Cobra.  I love this logo.  I am glad they are re-using it.  Especially since I have that logo tattooed on my shoulder.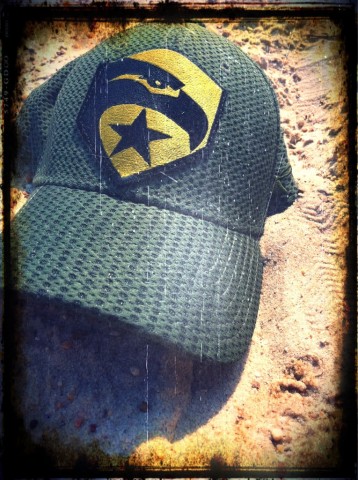 That is the news I found during my vacation.  I didn't get a chance to catch up on much else during my vacation.  We just needed some time away from home.  It was our first family vacation together.  And we had a blast.
This weekend I will be at Fan Expo.  I will be at the show on Saturday and Sunday.  If you see me, say hi!  I love to meet my readers.  Keep your eye out for a Beta Ray Bill figure for me.  I am trying to track that one down…. and a Cold Slither Zarana.