Atten – Hutt!!!!
G.I. Joe fans, do you know what June 18/2011 is?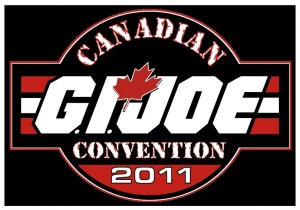 That is the day all you G.I. Joe fans will be at the Sheraton Toronto Airport hotel for the 2011 Canadian G.I. Joe Convention.
If you just read Brent Chittenden's blog about this years convention season, you would have read about the 2011 Canadian G.I. Joe Convention.  If you have never heard of this convention before, let me introduce this convention to you.
The Canadian G.I. Joe Convention (Can Joe Con) started in 2002.  It started off as a small gathering of G.I. Joe fans in Hamilton.  It became an annual event and moved to larger and larger venues.  Last year was the first time the convention was held in Toronto, at the Sheraton (which this year will be at the same location).
I have been to the last two Can Joe Cons and this is a great convention.  It is a must for any G.I. Joe fan (actually it is a great show for everybody, there is lots of stuff there that is not G.I. Joe).  There are vendors, special guests, cos-players (lots of fans in great costumes) and convention exclusives.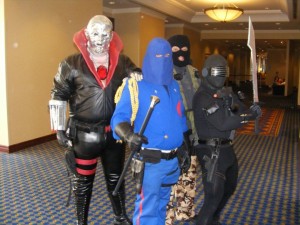 The first point I mentioned is the vendors.  So you probably get the notion that I love toys and especially I love G.I. Joe toys.  The main attraction to the show for me is being able to pick up a toy I don't have yet.  Last year I was able to grab the G.I. Joe Resolute 7 Pack.  It wasn't an item I was able to pick up in retail, so that was last years goal.  It is great for a G.I. Joe fan to have a whole room of vendors, dedicated to G.I. Joe (there is lots of selection of non-G.I. Joe stuff as well).  Plus like all toy shows there are lots of new items and lots of pre-enjoyed toys as well.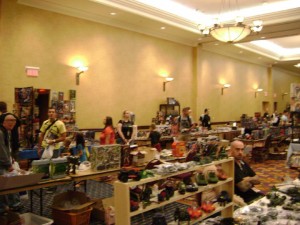 Can Joe Con has been able to attract great special guests to the convention.  Previous guests include Larry Hama, Zach Hoffman (voice of Zartan in the G.I. Joe cartoon), Mark Bellomo (author of The Ultimate Guide to G.I. Joe),  and Hasbro Canada.  This years special guests include Mark Bellomo, Valentine DeLandro (who worked on G.I. Joe Declassified and is a Toronto area artist), and Ron Rudat who was a figure designer for Hasbro and also created many logos, including the iconic Cobra logo.  This year I want to get a copy of Mark Bellomo's book; it is a must have for all G.I. Joe collectors.  I am looking forward to talking to Valentine DeLandro again.  I spoke to him at the Toronto ComiCon Fan Appreciation event.  He is a very nice guy.  He is fun to talk to and I love his artwork.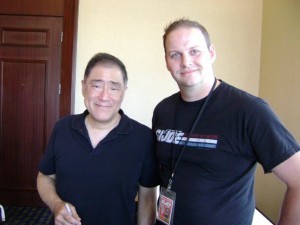 The guest I couldn't wait to meet last year was Larry Hama.  He was very nice to talk to and I had him autograph my copy of G.I. Joe #1 from 1982.  While he was there I saw that he was doing some sketches (which I have seen some posted on his Facebook account as well).  I was in awe of him at the time, and could barely think of anything to talk to him about.  If I was writing this column last year, I would have definitely asked him for an interview, but hey… you never know what is going to happen.
The other thing the Can Joe Con does is release a convention exclusive collectible.  These limited edition collectible figures and vehicles are highly sought after items, that people camp out at the hotel very early to get their hands on them first.  This year's convention exclusive will be an 8 figure collection with a Can Joe Con comic book.  The convention exclusive figures are designed for the show by the Can Joe Con team.  The characters are designed to specifically fight G.I. Joe/Cobra in Canada.  The numbers are limited for this set and they sell out very quickly.
For more information about the 2011 Canadian G.I. Joe Convention, please visit their website http://www.canadianjoecon.com/.  You can also find the complete list of special guests and exclusives there.  Registration information is available there as well.  I hope to see you all at the show.