I'm back in school with kids half my age so I'm feeling a bit apprehensive about the coming months. A lot has changed at OCAD (Ontario College of Art & Design) but the political and artistic sensibilities remain the same. Like my parents before me, we do the things that we believe will lead to better things. It's a heavy thought and now that it's the end summer I can't help but reflect on past summers when the only responsibility I had was riding my bike.
Back then, a bottle of Coke was only 9¢ and a penny was still worth the effort of picking it up off the floor. I would spend long days with neighbourhood kids trying to build a raft that we could float down the creek or riding our bikes to the various flea markets scattered along the outskirts of town. A visit to the flea market was a bit of an adventure for us. There were some weird and crazy stuff being sold at these places but I always made a beeline for the comic vendor. A couple of old Marvel Team Ups and an old Marvel Two-in-One went nicely with a cool fizzy bottle of Coke after a long ride on a hot summers day. After a quick debate about which superhero could beat who, we'd ride back home in time for dinner. Afterwards, my family and I would lazy around our humongous Zentih television and I'd always have a doodle pad next to me and sketch from my newly acquired comics as we watched shows like Mannix, Hart to Hart and the Six Million Dollar Man. Good times for sure.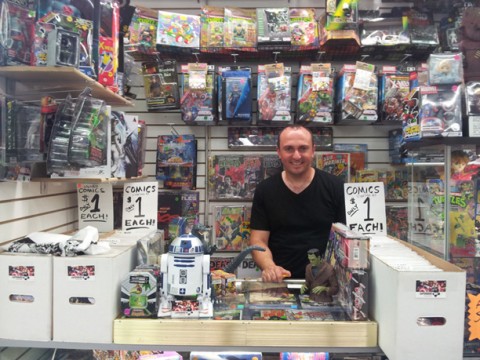 I haven't been to a flea market since childhood, but this past summer I visited two:
The Pickering Flea Market, situated on Squires Beach Road, was operating out of a massive complex which also housed an Antique Roadshow. Again, you'll find all sorts of oddities here, and among them, a single comic vendor. His booth was packed with comics mostly from the 80's and 90's, along with other collectible ephemera. Perhaps I caught this vendor on a bad day but he wasn't in a very talkative mood so I just took a look around.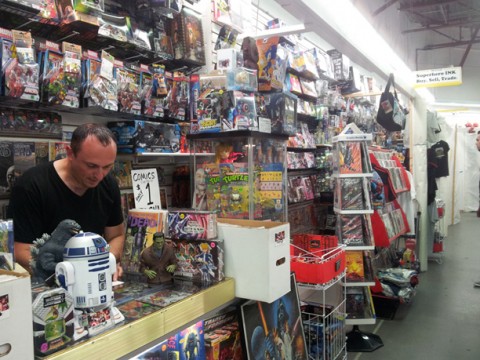 Dr. Flea's Flea Market is located at the west end of Toronto. The front facade belies the deep and complex interior filled with all kinds of vendors, one of which is Superhero Ink! operated by Joe Perri. In speaking with Joe, he confessed that comics were no longer the hot commodity that they used to be. However, his booth hosts a variety of other related merchandise including toys, figures, t-shirts, games and even some CGC books in addition to the standard array of comics. This has allowed Joe to keep his booth operating but by no means is it enough to quit his day job. So my question was… "Why? Why Joe do you keep it going?" His answer was simple and honest… "I love being surrounded by this stuff…". I think this statement pretty much sums up how most of us feel. Like Joe, I'd be content to spend a whole weekend in my basement rummaging through my books (if my wife would let me). Joe understands the market and the current state of affairs but like the hot ex-lover who took your innocence… sometimes it's hard to stay away. Joe say's he'd like to open his own comic store some day and is on the look out for a good location, but he doesn't want to rush it just for the sake of opening up a store. Despite having met me for the first time I appreciated Joe's candor. If you happen to be in the area, he's definitely worth a visit.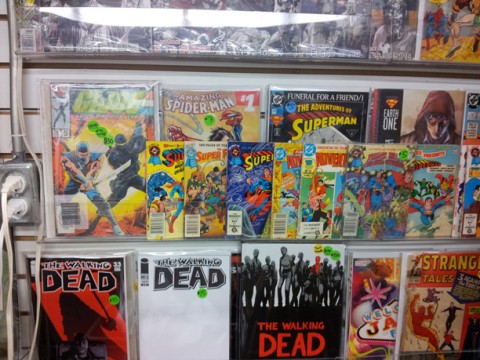 Amongst the varied merchandise that Joe carries is a series of DC's Blue Ribbon Digests and Marvel's Pocket Books. I grew up on this stuff! As a kid, I couldn't afford the early Silver Age books so my main source of Silver Age knowledge came from these smaller affordable books. Needless to say, I grabbed up as many as I could. They're wonderful books… Fireside Books have always been desired by collectors and the larger Treasury Editions seems to be making a come back. Perhaps with a little luck, these smaller Pocket Books will get some attention as well.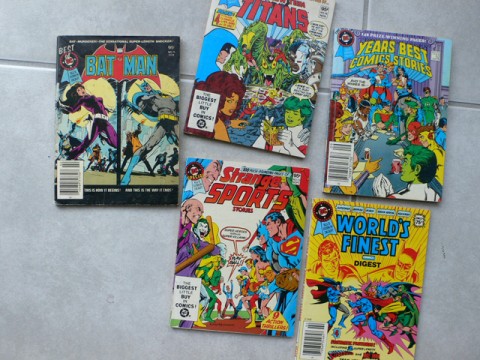 The flea markets are not quite as I remember them but they are alive and well. The vendors carry more commercial products as opposed to crafts or other collectibles. However, there is enough interesting stuff to check out to make a day of it. They even have a food court where you can sample some ethnic foods.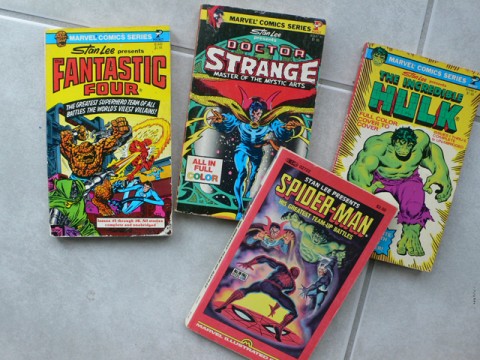 My three girls will have a much different childhood than the one I experienced. These are the days that they will reflect on with fondness, and now that my oldest has discovered graphic novels, comics can continue to be a thread that runs through our family.