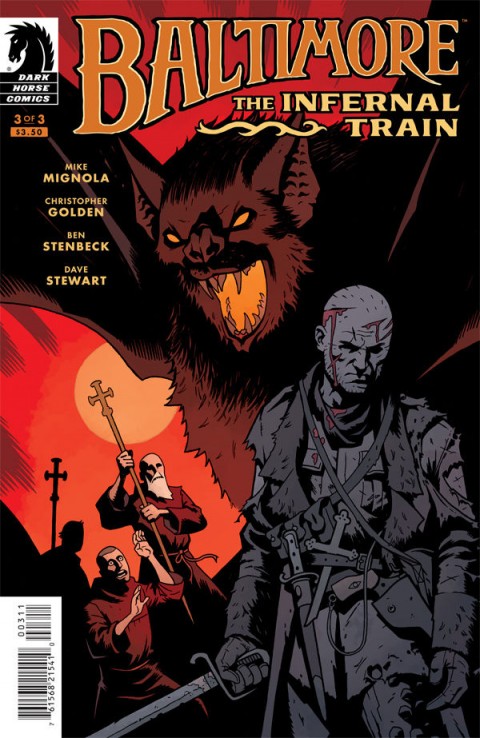 I've mentioned before that, while I'm still a fan, Mike Mignola's B.P.R.D. series has been on walkabout for a couple of years now. It's not that there's nothing to like. B.P.R.D. VAMPIRE is probably one of the finest series published under the title to date. But something is different. There's a lack of cohesion that has caused the title to feel more like an anthology of decent-to-good horror stories than an ongoing title. Meanwhile, another Mignola title, BALTIMORE, co-written by Christopher Golden and drawn by Ben Stenbeck, has surged in quality with each miniseries.
A little background: BALTIMORE takes place in an alternate-history Europe where the Great War is interrupted by a new plague, one that prominently features vampires. Lord Henry Baltimore is a former British soldier out for revenge against a vampire that destroyed his family. Baltimore's story begins and ends with the illustrated prose novel that Mignola and Golden released in 2008. A few years later, the pair started releasing the Stenbeck-illustrated comics, which flesh out some interim adventures briefly-mentioned in the novel.
The comics have so far been collected into three handsome hardcovers, and THE INFERNAL TRAIN will not doubt get the same treatment in short order. But THE INFERNAL TRAIN represents probably the peak of the comics series so far. It both introduces a new adventure for the titular hero and further develops the overall plot of the universe, revealing the dark vampiric machinations taking place in Europe while Baltimore tears across the continent on his one-man mission of revenge. But it's interesting how these seemingly stand-alone adventures all add a little bit to the overall story, and by the end of THE INFERNAL TRAIN, you'll be grabbing for the novel to see if you've forgotten details of that finale.
In the comic series, Baltimore usually appears passing through a town or as a passenger on a ship, chasing a rumor of the vampire Haigus from one place to another. But of course all of Europe is afflicted with the evil of the plague, and there is no shortage of death to be dealt by someone so skilled at doing so as Lord Baltimore. And despite his early protests, he usually ends up helping the locals deal with their vampire infestation. A few issues ago, readers were introduced to Judge Duvic, an agent of the "new inquisition" who is obsessed with tracking down Baltimore, whom Duvic believes has been tainted by evil. In THE INFERNAL TRAIN, Lord Baltimore agrees to meet Duvic, and the series features a long-awaited showdown between the two, although there is more going on in this small town and its strange, visiting locomotive than either suspects.
I first encountered Stenbeck's work on another, earlier Mignolaverse title, WITCHFINDER. His talent as an artist has grown leaps and bounds since his first issue of BALTIMORE, and his even lines are a perfect match for colorist Dave Stewart. Stenbeck is capable of suggesting the extreme chiaroscuro employed by Mignola without aping it at all. Honestly I can't imagine a BALTIMORE book not drawn by Stenbeck at this point.
The next series in the title, CHAPEL OF BONES, begins Jan. 1, and promises to bring the story full circle to complete the gaps (purposefully) left in the novel. Overall, it's been a remarkable run for a title that I initially thought was an unnecessary expansion of a perfectly good novel into a comic book.