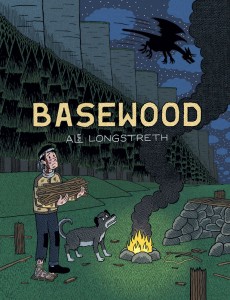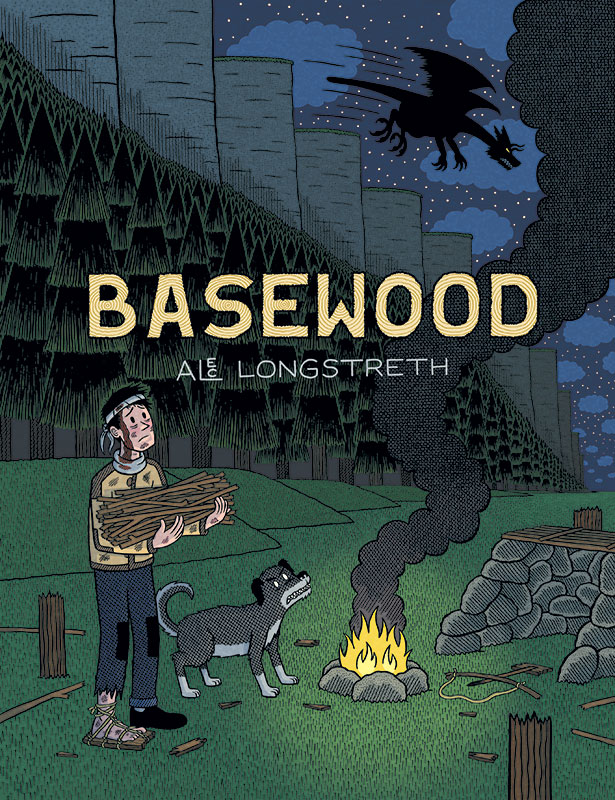 BASEWOOD is the best comic I've read in months, maybe longer. Cartoonist Alec Longstreth's lovingly-crafted, oversized hardback arrived on my doorstep this week, a few months after its publication was successfully funded on Kickstarter. It's a fairy tale featuring adventure and romance, love and death, fear and joy, and it contains some of my favorite black and white line art in recent memory.
The book opens with a man waking up in a forest, injured, with one shoe and no memory of who he is or how he got there. He meets a friendly dog and an extraordinarily generous old hermit who help him recover from whatever led to his memory loss. Oh, and there's a terrifying wolf-dragon thing that likes to break everything in sight.
The old hermit, Argus, lives in an absolutely awesome tree house deep in Basewood, a forest that skirts the edge of an enormous cliff where the wolf-dragon creature dwells. In the absence of a story about how the yet-unnamed protagonist ended up in Basewood, Argus tells the startlingly sad story of how he came to live alone in a tree in the forest. The two men are quick friends, and the unnamed man helps Argus with chores around the treehouse until something in the trees near where he awoke sparks a memory deep in the nameless man's mind. He then becomes obsessed with unraveling the mystery of who he is and where he came from. Other characters appear and other stories are told, but to say any more would spoil the masterful mystery that Longstreth has woven throughout the book.
Longstreth's characters are expressive and likeable, and they move through the frames with grace and dignity. His artwork reminds me of something from an illuminated manuscript or a block print. The oversized format lets the reader see the painstaking detail that Longstreth has put into every inch of every panel, from the character's fuzzy beards and intricate clothing to the torrential snowfall that nearly obscures some scenes.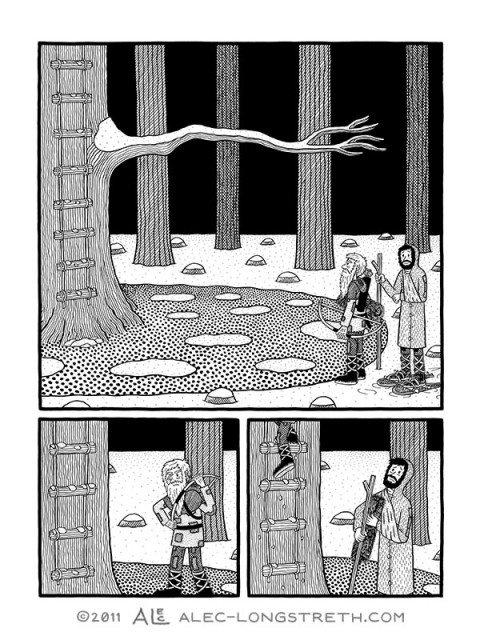 Each page is worth going over twice on the first read. Longstreth is a gifted cartoonist, and his reliable paneling and excellent sense of balance and space lend the book an almost palpable intimacy, a connection to the story and the cartoonist that you just don't get in most comics.
Longstreth wrote and published BASEWOOD several years back as part of an ongoing self-published comic series called PHASE 7. Somehow Longstreth knew this story was meant for greater things, se he decided to publish BASEWOOD as a stand-alone graphic novel. He created a Kickstarter project and it received more than double the requested funds. Then Longstreth really got to work.
Longstreth's Kickstarter campaign should be a model for future folks interested in using the platform to print a book. His almost-weekly updates on the progress of the book were nearly worth the pledge itself. He offered unexpected behind-the-scenes access to the progress of the book, from picking colors, cover textures and printers to examining proofs and the excruciating-but-important task of proofing and proofing and re-proofing to weed out every error. I really felt like Longstreth was letting his backers in on the care and skill that went into making the book.
I received the book as part of the author's Kickstarter, but it will be released in April and is available for pre-order. More info available at Longstreth's website. I anticipate that the book will make some waves in the comics press, or at least I hope so. It's easily my favorite stand-alone graphic novel of the year so far. Oh, the book is $20 and worth far more than that in my opinion, but the comic is also available in full on Longstreth's website.