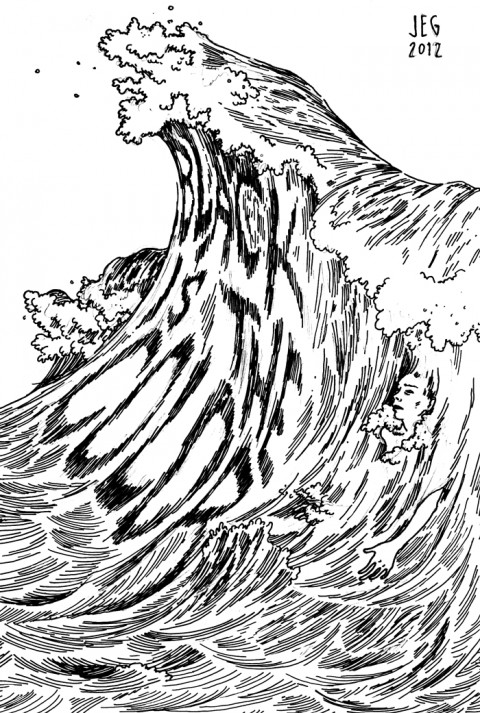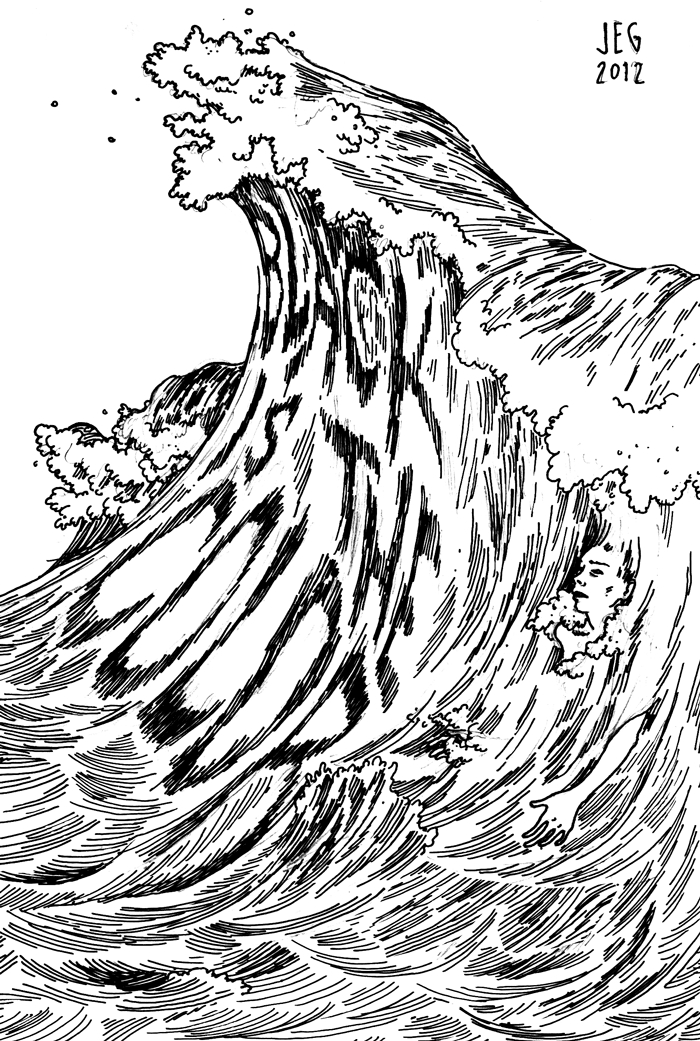 I had the opportunity to meet and purchase some books from Julia Gfrörer (ge-FRAIR) at Stumptown Comics Fest in Portland, Ore., last week. I had already acquired copies of her minicomics TOO DARK TO SEE and FLESH AND BONE and quite enjoyed her webcomic, BLACK IS THE COLOR, that was published on the Study Group website. She had copies of all of her minicomics, including printed editions of both parts of BLACK IS THE COLOR, which feature eye-catching green screenprinted covers that, intentionally or not, pair well with Gfrörer's own bright red hair. I decided that I'd like to have the minis, even though I'd already read the story several times online. It's about a sailor cast adrift in a small boat and the mermaids he encounters while slowly dying there. (The BLACK minicomics seem to be temporarily sold out online, but Fantagraphics is collecting the full story later this year.)
Gfrörer's stories are often dark and emotional, but BLACK also features wisps of dark humor, and I was struck by the way she depicted the mermaids and mermen acting like everyday humans, if a little on the hipster side. They prattle on about parties and recording music in their homes and gossip about other merfolk as soon as they leave the scene. Contrasted with the dying sailor's emotional turmoil, the mermaid scenes will make you smile. I asked Gfrörer what her inspiration for those scenes was, and she told me that she'd recently read the original Hans Christian Anderson story of The Little Mermaid and was taken aback by the way that mermaid sisters simply didn't understand the differences between the human and the mer worlds. Gfrörer said she found the whole idea so beautiful that it made her choke up just to think about it.
Gfrörer has published two other minicomics as well as having contributed to a number of anthologies, including the 2013 free comic book day release RUNNER RUNNER #2 from Tugboat Press, which features a one-page comic/illustration by Gfrörer titled "The 39 Ryan Goslings."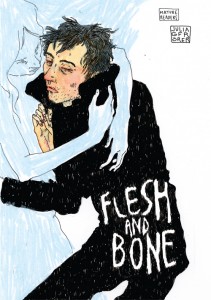 Gfrörer's 2010 minicomic, FLESH AND BONE, published by Sparkplug, is again a bit of a morbid affair, featuring shocking imagery of demon worship and vegetable love. Gfrörer's grotesque sexual imagery should seem perverse, but in the service of this story about a man so desperate to be reunited with his dead love that he employs a child-eating witch, it works. Gfrörer's simple black line artwork and sturdy 9-panel grid create a well-paced exploration of the intersection of grief and black magic.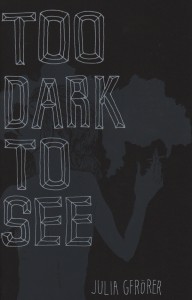 TOO DARK TO SEE, released in 2011, is a delicately terrifying story about a succubus that visits a young man in his sleep. The succubus is traditionally a female demon that visits men during the night and has sex with them, sometimes robbing them of their vitality altogether. Gfrörer draws them as scribbled shadows that creep from the corners of a darkened room, but they don't seem particularly menacing beyond being shadow beings. They have an ethereal, almost dreamlike quality. Perhaps they are more representative in this story than literal? In any case, any sense of unease created in this story is replaced with wonder by the end.
It's rare for minicomics to feel whole. Often they are repackaged versions of webcomics or other anthology pieces, and their minicomic incarnation feels like something slapped together for a con table. Not so with Gfrörer's minis. Even though BLACK IS THE COLOR first appeared online, its print edition is beautiful enough that it should be considered canon. Her other minis are books that I am proud to own and display, up there with Becky Cloonan's THE MIRE and WOLVES.
Give BLACK IS THE COLOR a read and decide if you'd like to add some of Gfrörer's minis to your collection. Also visit her website for lots of illustrations and other goodies: http://www.thorazos.net/