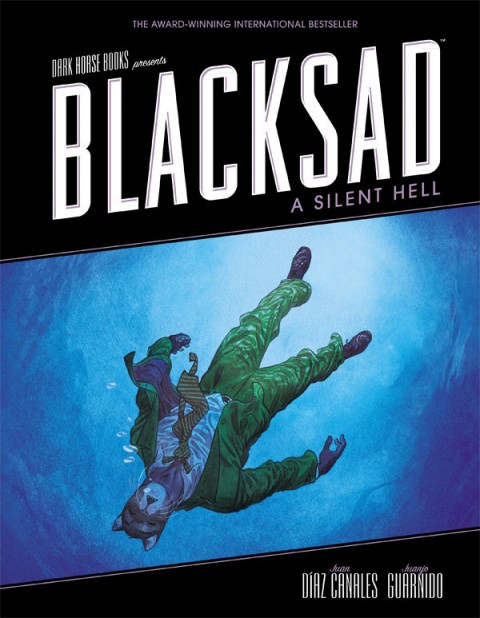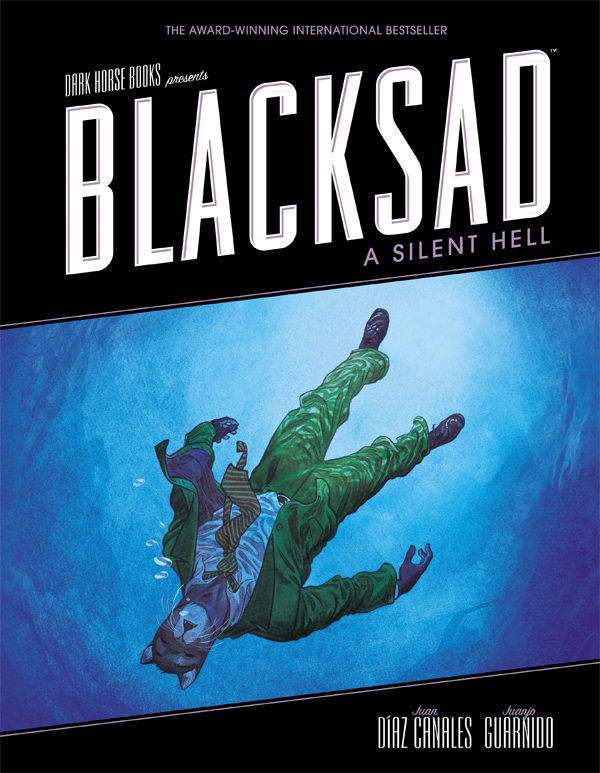 BLACKSAD: A SILENT HELL
Written by Juan Díaz Canales
Art by Jaunjo Guarnido
110 pages, full color
Dark Horse Comics
Published July 2012
Order online: Amazon, Book Depository
The Blacksad series has a troubled history in North America. Although its stories are set in a  romanticized postwar America, it is written and drawn by Spaniards and was published first in French. The first volume, Somewhere Within the Shadows, was published in 2000 in France and found its way to North America in 2003. Unfortunately, the company responsible for bringing the books to U.S. readers filed for bankruptcy after publishing the second volume, Arctic Nation. The first two volumes are long out of print, and the third volume, Red Soul, hadn't been published in English until the first three volumes were collected and published by Dark Horse in 2010, right around the time the fourth volume, A Silent Hell, was first published in France. With Dark Horse's publication of A Silent Hell in July, the English-language market is up to date with the Blacksad series.
Creators Juan Díaz Canales and Juanjo Guarnido met while they both worked at an animation studio in Madrid in the early 1990s. Guarnido moved to Paris in 1993 to work for the now-defunct satellite Disney animation studio in Montreuil, where he contributed to several projects, including Hercules, Tarzan and Atlantis: The Lost Empire. Guarnido and Canales remained friends and eventually collaborated on Blacksad, their love letter to American film noir of the 1950s. While both continue to work in animation, Blacksad is their comics opus, having consistently sold out and won multiple prestigious comics awards. But perhaps partially due to its troubled publishing history in the U.S., it remains popular mostly among the most adamant comics readers.
Guarnido's exceptional ink and watercolor style draws in readers immediately, but it's Canales' intricate and moody storytelling that keeps them coming back. Each volume is presented in the Euro-comics style as an oversize 45-odd-page album. Though the books star  anthropomorphized animals drawn in a Disney-esque style (think an inky TaleSpin), these are not stories for children. They feature nasty murders and explicit sex and deal with hard subjects, from poverty and racism to McCarthyism and the bomb.
In A Silent Hell, private detective Blacksad and his sometimes sidekick Weekly are in the colorful city of New Orleans to investigate the disappearance of a legendary jazz pianist named Sebastian "Little Hand" Fletcher. Fletcher's record label executive is worried he may have gotten himself in trouble due to his heroin addiction. Blacksad and Weekly track Sebastian's friends and enemies and eventually uncover a conspiracy surrounding a medicine salesman that poisoned residents of a small town, causing countless deaths and birth defects. Along the way, Blacksad himself is poisoned, beaten and nearly drowned. The story is steeped in symbolism and strange imagery, perhaps even hinting at future plotlines for the series.
Two years may seem like a long time to wait for a translation of a 50-page comic, but Dark Horse and the creators have overlooked no detail in the creation of this edition. Great care has been taken with the translation, perhaps because the creators so clearly want to honor the American films that inspire these stories.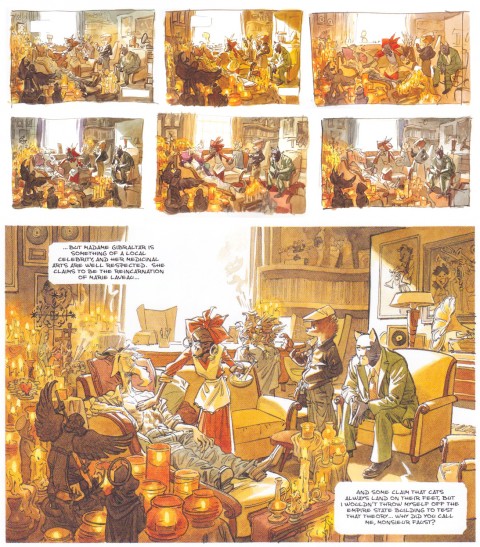 Included in this volume is the title story, as well as an intimate behind-the-scenes essay by artist Juanjo Guarnido. He writes about how his use of watercolors has evolved since the first Blacksad book, and he details at length the technical aspects of paper and brushes and his evolving technique. Included with the 36-page essay are excerpts from the artist's sketchbook, including early value and color studies for many panels that appear in the book. This fascinating look at the artistic process is worth the cover price on its own.
In addition, two short Blacksad stories never before published in English are included. One is a poignant anti-war tract and the other a consideration of the value of friendship. The overall package of this edition of A Silent Hell is magnificent, right down to the plot detail included on the endpaper illustration. Although it has taken years for us to get caught up with the rest of the world, English-speaking readers are truly lucky that Dark Horse has taken up the Blacksad mantle.
Andy Zeigert