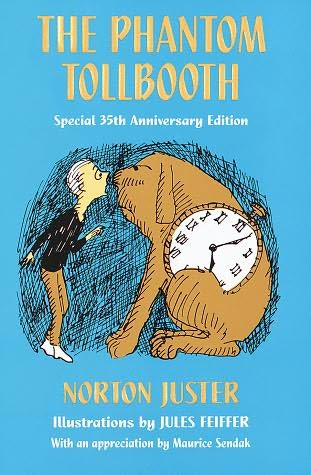 Not Comic Books but still pretty cool: Michael Chabon, the writer of the Pulitzer prize-winning comic book love letter The Amazing Adventures of Kavalier & Clay writes a wonderful thank you to his favourite childhood novel The Phantom Tollbooth. For those of you unaware of this pretty phenomenal book here's a quick summation:
The Phantom Tollbooth is about the adventures of an extremely bored boy named Milo who receives a very strange package – a build-it-yourself tollbooth that becomes a gateway to a strange adventure through cities made of books and numbers. With his faithful watchdog (a dog with a watch embedded in his body), Milo barely escapes the Doldrums to Digitopolis and Dictionopolis and ultimately an escape into adventures that prevent him from ever being bored again.
The whole thing, over at the New York Review of Books, is worth checking out.
Chabon has been making the rounds in the comic book community for a while now, having had his Kavalier & Clay character the Escapist turned into a series of anthologies by Dark Horse comics, including a sort-of-kind-of spiritual sequel to K & C in Brian K. Vaughan's The Escapists (with art by Phillip Bond and Steve Rolston). I especially enjoyed a recent conversation with Matt Fraction in the back of Casanova about super spies and the influence of Howard Chaykin's American Flagg on his writing. (Chabon also wrote a pretty bad ass intro to the Definitive American Flagg Hard Cover released a few years back.)
Chabon also tried his hand at pitching a script for the Fantastic Four movie. He offers some pretty cool concepts such as completely by-passing the origin to present an already established Fantastic Four (the origin is instead presented as a Jurassic Park DNA educational video. It's a shame that they didn't go with this treatment, but I hope that once the rights revert back to Marvel, they'll take a second look at the draft. It would offer up a really different take – one of exploration, discovery and wonder – which is what the Fantastic Four should be about.
Whoa. I think that's enough of the Chabon appreciation society for today. Let's talk Comic Book News!!!
I love Tony Moore as much as the next guy but I'm just so happy that Tom Fowler is taking over art chores on Venom. Fowler is one of the best artists currently working today. While I'm not a huge fan of Venom – probably a holdover from my teenage years – I kind of dig what Remender is doing with the series. Comicbookresources has the preview of Venom #3 up and it looks pretty good – of course, it's nowhere near as cool looking as the black and white pencils previously released: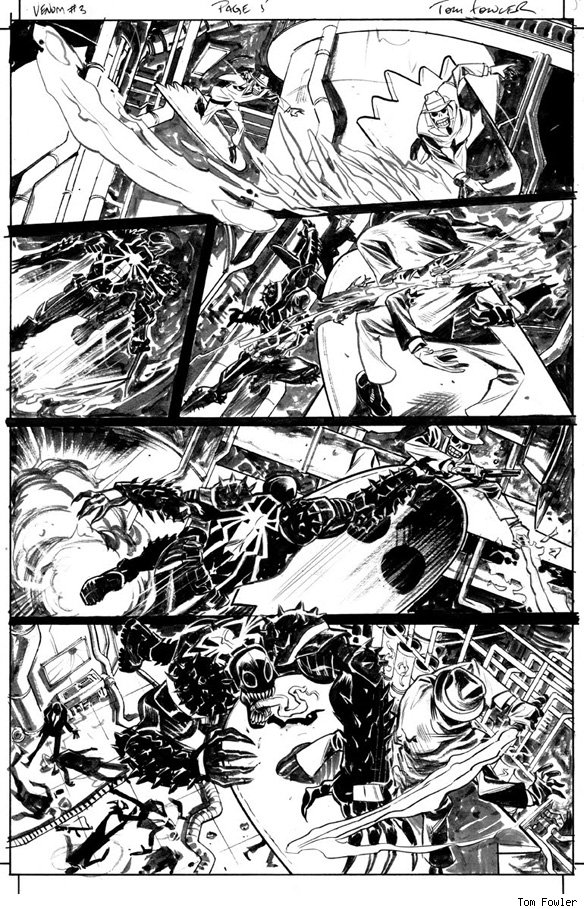 There's something incredible about the way Fowler lays out a page, his sense of pacing is incredibly fluid. He's also a ComicTwart-er (which sounds bad, but if you're a regular at CBD you know what it is) and recently chose Roald Dahl as his pick and it ended up generating some of the most imaginative twarts since Clara de Noche.
Oh Phil Noto, you make everything look awesome: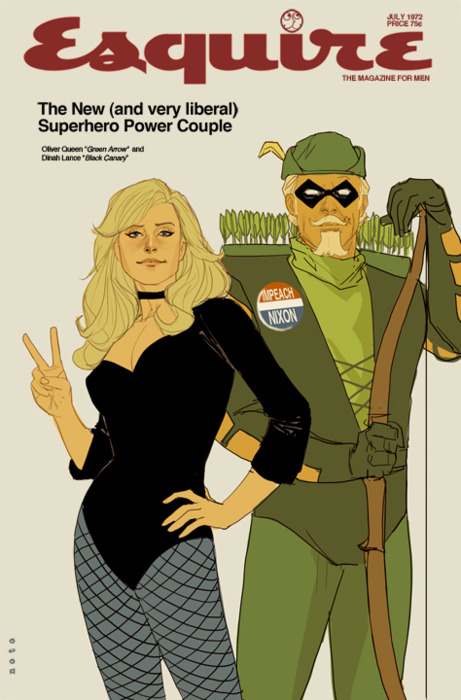 And finally – the manliest thing you'll see all day: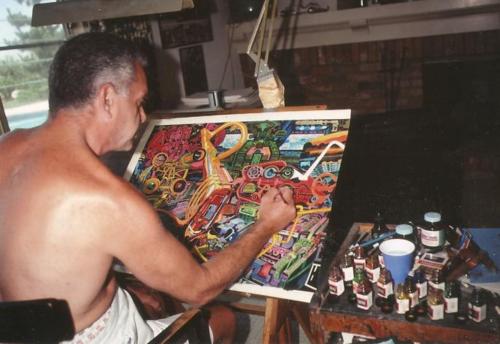 Jack Kirby. No shirt could contain such a badass.
…and with that, I think I've covered all my 'topless genius' quotas for the rest of the year!