There were Treasury Editions! Before there were Artist Editions and the like, both Marvel and DC experimented with oversize volumes that collected both reprints and original stories. They were printed in oversize volumes, roughly 10.5″ x 13.5″. Printed on regular newsprint with standard 4 colour palettes. So they were certainly not as large as the 11×17 size of Artists Editions (AE) and no where near the twice up size of some of the AE that IDW and others have done but in there time, 1974 -1981, they were certainly a sight to behold and like AE, a challenge to find bags and boards for as well as store safely.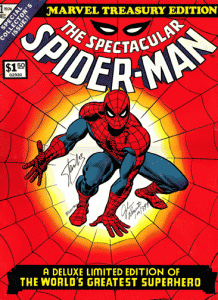 The first issue of Spectacular Spider-Man had 1000 copies signed and numbered on the cover by Stan Lee and John Romita, and were available only through mail order. Overstreet lists a 9.2 signed copy at $210.00.
Most were collections of earlier stories from Spider-Man, Fantastic Four or whichever character was featured, and there were many. From Marvel's flagships like Thor, Hulk and Conan to some of their lesser lights like the Defenders and Howard the Duck. There were also Seasonal Specials for Christmas and adaptations of the Wizard of Oz and 2001 A Space Odyssey.
DC was putting out the "Collector's Editions" of Neal Adams Batman with the introduction of Ra's al Ghul and the Lord of the Jungle Tarzan.
And then of course there was the joint Superman/Spider-Man crossover that Marvel and DC collaborated on.
Who didn't love Superman Vs Muhammad Ali?
My favorites of these are the adaptation that Jack Kirby did on 2001 and his Captain America's BiCentennial Battles. It was certainly later in his career, and after his return to Marvel fresh from his stint at DC, but for me, especially the 2001 adaptation was really a sight to see and Kirby's largess perfectly fit the story and the format of the oversized editions.
DC's Tarzan and the Return of Tarzan being my favorites for them, followed oh so closely by Neal's Batman saga.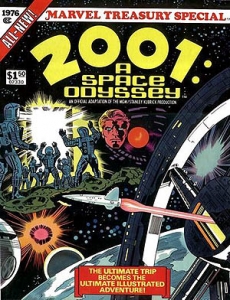 The price tag on these books at the time varied between $1.00 to $2.50. Nowadays you will spend anywhere from $20- $50 depending on grade and title to get decent copies in VF or better condition and they can usually be found at a few vendors booths at any large Con.
That was the closest thing to seeing the art at roughly the size it was produced in, but I do remember thinking even at the time that for the most part, other than the size the lack of quality reproduction kind of fell flat for me.
I am sure my sentiments will be pretty well echoed by you, the faithful reader of this missive, but nostalgia as we know, is a powerful drug, and I am certainly glad to have picked up a few of these issues just for that sake alone.
So which ones were your favorites? Do you still have them?
If not… continued Happy Collecting!
P.S Marvel Announced the return of the Treasury Edition featuring Spidey by Robbie Thompson and Nick Bradshaw! The price is now $15.99! Ouch!