Well Fan Expo has once again come and gone, and this year I was only able to make it for the Saturday. I usually do a couple of days but alas, this year was not to be.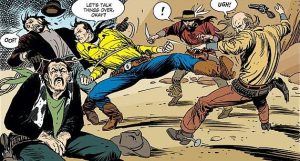 Now usually every year I take it upon myself to try something new that I have never experienced before. You can always find complete mini series, or runs of a particular title that are packaged together in a mostly affordable fashion.
Over the course of the year I make notes of interesting things I see either in original artwork pages from some series I am unfamiliar with, and different books that favorite creators worked on that I never was aware of. I save these  interesting tidbit ideas on my phone for easy reference at the show.
This year my two main choices were a Hardcover Graphic novel called Tex The Lonesome Rider by Claudio Nizzi and Joe Kubert. This book was originally published in Italy in Italian and has recently been published by Dark Horse in an excellent English version in 2015.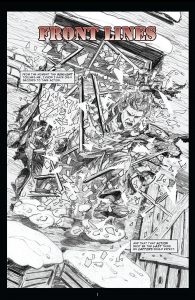 Now I love Joe Kubert and his amazing ability to tell a story. And this volume does not disappoint. I have never been a collector of Western comics, but a good story is a good story regardless of genre. As of this writing, I am about halfway through, and the genre lends itself to Kubert's fantastic gritty style.
One of the things that the Silver age masters excelled at was that they could draw anything Sci-Fi to Western and everything in between, and Kubert once again proves this.
The second book I was on a mission for I could not find anywhere: Doug Wildey's Rio. Another western that unfortunately will have to wait for another time.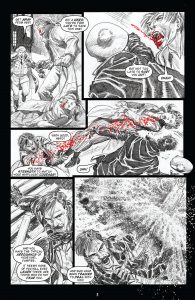 As I went down my list of notes to myself, somewhere along the way I had written down Angel: Blood and Trenches. Now this was a project John Byrne had done for IDW in 2008/2009. I knew nothing about Angel of Buffy fame at all, having not followed Buffy or Angel in there many seasons on the tube. This 4 issue mini series is a super surprise, as the whole series is shot from Byrne's full pencils! And it is stunning. Byrne wrote and illustrated this series set in Europe during WWI.
Byrne excels at period pieces of whatever time period he chooses to weave his stories. Take a look at a few examples: X-Men Days of Future Past, Omac the B&W mini series, 2112 (the prequel to his Next Men series). I could go on, but you get the point.
The full pencils, and they are masterfully full, highlight the time period in vehicle, airplanes, clothing and architecture.
The story is a great example of Byrne's masterful storytelling and any fan of John Byrne really should check this out. It is in the bargain bins, but it is a priceless new find for me!
So I will start adding to my list for next years Fan Expo! The hunt goes on!
Continued Happy Collecting!
---