Being a Son of the Silver Age comes with a bit of a down side.Many of the Silver Age Creators have passed away and now even the Bronze Age artists are leaving us. But this past weekend (May 14th) marks the passing far too soon of one of my favorite contemporary comics creators.
Darwyn Cooke passed away last Saturday morning around 1:30 AM. He was 53 years old. He lost his battle with a very aggressive form of cancer.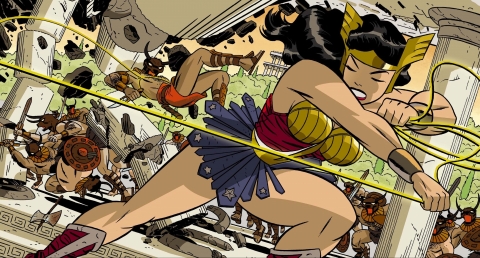 I really became aware of Darwyn Cooke with his 400 page story "The New Frontier". Now I have always been a Marvel fan and really only wandered over to the DC side of the ledger when extraordinary things were happening there. Neal Adams and Denny O'Neil's Batman. Len Wein and Berni Wrightson's Swamp Thing. Frank Miller's Dark Knight. Miller and Mazzucchelli's Year One, Joe Kubert's Tarzan.
Then along came DC's "The New Frontier". I discovered this after the fact. I picked up the entire run at Fan Expo a few years ago and fell in love with his fantastic storytelling. To me he was reminiscent of the Silver Age of Comics. Which was so refreshing. He was like a cross between John Romita Sr. and Alex Toth!
Since that first 12 issue run I have gotten several versions. A two part trade and finally the hardcover Absolute Edition. It contains the entire 400 page story in an oversize 9″ x 16″ volume. It contains also many pin-up pages and behind the scenes character sketches and jam packed with covers, anecdotes and more.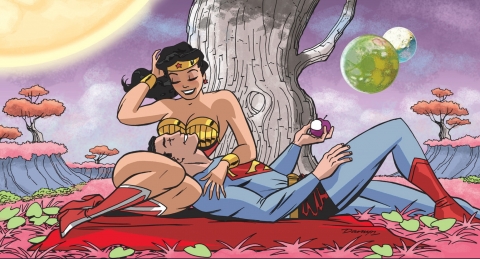 If you have not read this story, do yourself a favor and pick it up. It is to me what comics are supposed to be: fun! Darwyn makes every character in the DC Universe his own. Wonder Woman actually is an Amazon. The banter between Carol Ferris and Hal Jordan is infectious. You can't get enough of these characters. Martian Manhunter, Batman, Superman, Flash, Green Lantern, and it goes on and on.
Another of my Darwyn Cooke favorites are his adaptations of Richard Stark's Parker novels. Especially in "The Martini Edition", another oversized tome by IDW.
Darwyn was also involved with the"Before Watchmen" series, writing and Illustrating Minutemen and writing the Silk Spectre series illustrated by Amanda Conner.
He also was heavily involved as a storyboard artist for many DC animated series, including Batman Beyond and The New Batman Adventures.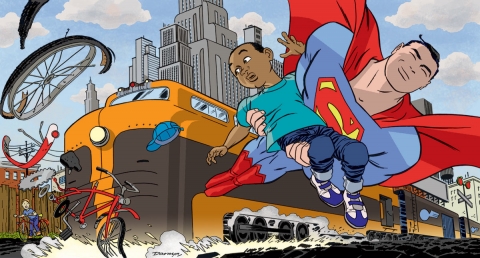 Upon doing research for this article I discovered a few stories that I never knew about. In 2001 he teamed up with Ed Brubaker to do a remake of Catwoman where he redesigned the look of the character that defines her still. He then wrote and illustrated "Selina's Big Score".
I will be looking these up immediately. As well as what I believe is his final printed work "The Twilight Children" from Vertigo.
And you know what? He was Canadian.
So once again, we must resign ourselves to the body of work by an  artist that has left us far to soon… for the new frontier.
Continued Happy Collecting!