I recently picked up the 18 issue run of the great Silver Age Silver Surfer series! Now, I was ten years old when this book came out and that was right after I really discovered the comic collecting bug and how can you not be a "Son of the Silver Age" when that was your introduction to this wonderful hobby!
So naturally I did what every self-respecting comic collector would do in my situation. I went through the 18 issue run with the youthful enthusiasm you would expect. It has been a long while since I went from front to back with this series. The most recent time I really got into the Surfer was with last years IDW John Buscema Artists Edition.
Watching the changes to the artistic approach Big John brought to the series was a real treat. The first three issues were inked by Joe Sinnott  and featured the bulky more muscle-bound Surfer that Jack Kirby had created. By issue three when we had the introduction to Mephisto, Big John was already starting to slim down Norrin Radd, and by the time we got around to number four, and the introduction of Sal Buscema as inker the quintessential Surfer appeared.
Big John's mastery of anatomy and storytelling was at its peak, and you could see how he was relishing the depiction of the Steed mounted Asgardians and the medieval Banquet and Jousting Hall where the Surfer and Thor meet. Like most people, this is one of my favorite comics and is among only a handful of books that sit at the top of very small pile of absolute examples of what can be achieved when the right story and art comes together.
The next three issue square bound books are also great books! For some reason it was decided at the beginning of the Bronze Age that stories were going to be more self-contained and a change happened.
Dan Adkins took over the inking chores with issue eight and as a big fan of his clean, smooth line quite enjoyed his touch. Sales of the book were dropping at this point and Stan Lee started to try to find a more Super Hero direction for the series and I began to notice a very strange thing.
Suddenly by issue 11 and 12, many of the antagonist's heads were changed by John Romita Sr. I never really noticed that almost all the heads of the villains were no longer John Buscema heads before, but they were redrawn.
I know for a fact that Big John didn't forget how to draw heads, but here they were. Redrawn. I have never heard any definitive reason for this and upon closer inspection you can see that on the cover of number 11, the Surfer's head has been replaced with a Romita head! I have never seen any scans of original art that showed Big John's head on any pages where the art was changed. All that original artwork seems to not be out there.
There must be a story in this somewhere? I just don't get it!  Go back and take a look at your run and check it out for yourself. If you have any additional info or artwork I would love to see it.
Here are a few examples taken from the essential Surfer series.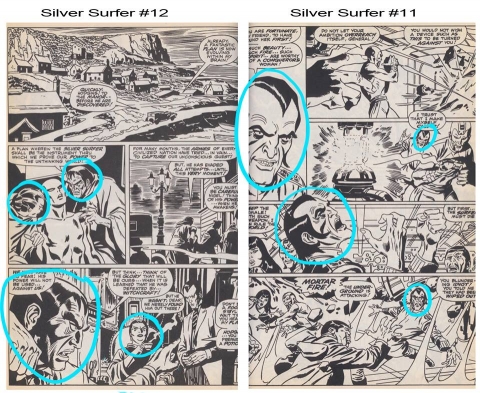 Before I sign off for this episode of Tales From The Comicdenn, I would like to bring to all you Silver Age and comic fans in general some information regarding a couple of worthwhile fund-raisers.
One is the Cockrum/Colan/Kubert School Scholarship Fundraiser to raise money for … you guessed it , helping up and coming artist with scholarships that are awarded annually. You can bid on some great items from the Estate of Dave Cockrum, Gene Colan and Joe Kubert. Signed comics, artwork and lots of interesting items for a great cause. Please check it out here: http://aardwolfpublishing.blogspot.ca/2016/02/cockrumcolankubert-school-scholarship.html
As well as The Herb Trimpe Scholarship fund to assist up-and-coming artists to the Joe Kubert School also awarded annually. You can go here to check it out https://www.gofundme.com/cdq8jhdg
This is a great way to keep the great artists of the Silver Age top of mind  and continue to bring their work in front of new and old fans alike.
Thanks for affording me this commercial interruption , and may you have Continued Happy Collecting!
Image courtesy of Gabriele Pennacchioli and The Artistry Of John Buscema Facebook group.