This article is not intended to identify or elaborate on all the evil that Comics Guaranty LLC (CGC) or Professional Grading Experts (PGX) have brought to the world of comics.
If it were, it would result in an entire series of columns picking over the fine details of price inflation, questionable grading practices, running a pressing business on the side, questionable business ethics and other activities that have been observed since "professional grading" of comics made the scene in 2000.
Nope, this one is about how dealers, independent collectors and "flippers" as well as others involved in the many aspects of comic peddling have manipulated the grading companies for their own nefarious schemes.
Before anyone mentions the obvious, I already know that anyone can ask any price on anything they want to sell. But if you want to be successful in selling an item, you had best list a reasonable price.
I planned this article after seeing ridiculous antics involving the buying and selling of graded comics online – particularly eBay.
One of the most notable abuses I've seen is expecting "professional grading" to result in making a book "worth more. "
Presumably, "worth more" than its corresponding listing in the Overstreet Price Guide.
As you can see by some of the photo samples I've posted with this article, eBay sellers have sent off very low-grade books or books hot off the shelf to CGC and then have tried to hawk them online for far more than what the book is worth.
Reality Check: a book graded 2.5 – or any other grade for that matter – is not "worth more" just because it comes in a clear plastic case – other than the price of the grading.
This particular example also carried a $50 price tag. Near Mint minus for Captain America 148 is only $22; a 2.5 only goes for about $2. What makes the seller think a book is "worth more" only because it's in a clear plastic case is beyond me.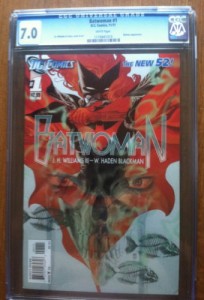 One guy wanted almost $40 for a 7.0 copy of "Batwoman No. 1." I know where you can get one for $2 in near mint condition. Look in the dollar box at your local comic shop.
I love to watch these things go off unsold into eBay's "Twilight Zone" and I see that very, very often. Apparently there are a lot of smart buyers out there that are saying "NO" to these shenanigans.
Sure, if there are some that do think a book is worth more just because it's been "professionally graded," go ahead and buy it. P.T. Barnum said there's one born every second.
Another way in which I see the "professional grading" misused is sellers expecting the buyer to pay the entire cost of the grading. I think the buyer should only have to pay half of the cost of grading a book. That cost should be shared by both the seller and the buyer; unless the buyer is willing to pay it all.
Back to P.T. Barnum again.
When I buy a graded book online, either the seller pays half the cost of the grading or there is no sale and I encourage other buyers to demand the same conditions.