I met Diana Nock at TCAF. Sadly, it was late on the second day and I was pretty much spent out. But she offered to take my last cash for a copy of her first collection of The Intrpeid GirlBot and I'm very glad she did.

If there's one pleasing growth area in non-mainstream comics it's work aimed at younger readers. Much like Owly, another great comic for kids, Intrepid Girlbot is a story told without dialogue. The story is told completely with the visuals. (with the occasional Zot and pop sound effects.) The action is animated with the sort of Looney Tunes cartoon explosions and hijinks that make the younger reader laugh. But there is also pathos as Girlbot tries and fails.

Our heroine is a little girl robot who is trying to figure out who she is. She leads a fairly sheltered life, but has seen the fashion magazines and is trying to fit in.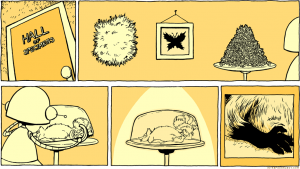 But she's a klutz. And no matter how she tries to do the right thing, her efforts have disastrous results. Which leads to her killing a raccoon and having him brought back as a cyborg. And now Girlbot and Cybercoon, both misfits, become friends. And if you are trying to find your way through life, whether robot or cyborg, it's easier with a friend.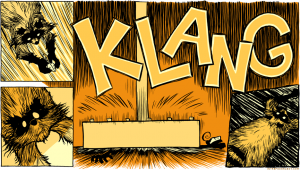 As to the visuals, as I said earlier, animated is the word. With a monochromatic yellow- orange colour palette and great characters with depths of expression despite being robots and rodents, Girlbot is pro all the way. Guess that's one reasons she won the Leah Adezio Award for Best Kid-Friendly Work in 2010.  She's versatile as well, just look at these Visions of Girlbot.

With any luck, there will be another Girlbot collection in a year or two, and this time, I'll Diana's table early.