Sadly this week I won't be posting a video blog. It being cold and flu season, I was unlucky enough to catch a cold and no one needs to see that. So, I thought I would post this article about some of the topics I wanted to cover in my vlog.
First, my comic picks of the week. When I went to the comic store the other day I picked up Uncanny Avengers #1 by Rick Remender and John Cassaday.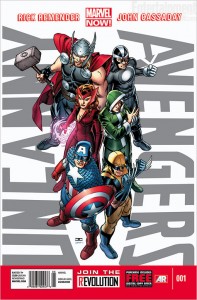 Spoiler: (I think) The comic starts by unveiling the death of Professor Xavier, which made me sad right away because whenever I read about or look at a picture of Professor Xavier all I can think about is Patrick Stewart….mmmm Patrick Stewart. Besides that, most of the book was about connecting characters together and introducing a pretty bad ass villain.
I also picked up the first three issues of Think Tank by Matt Hawkins and Rahsan Ekedal. This comic is about a super genius who has a bad attitude and makes weapons of mass destruction for the government. He has an epiphany and realizes he no longer wants to make weapons that are used to kill and tries to find his way out of the government through sass and shenanigans.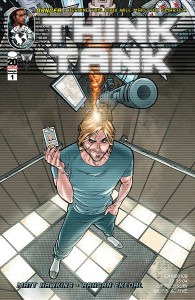 The reason I am sick this week is because of my visit to New York Comic Con. When you jam that many people into a convention centre, disease is bound to spread. While in New York, you have go see a Broadway show so to keep the comic theme of the weekend going, I went to go see Spider-man turn off the Dark.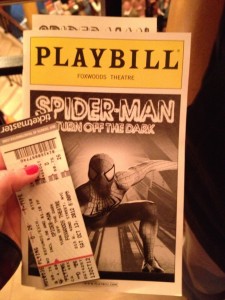 The play was a lot of fun! Spider-man and the Green Goblin would fly through the audience on harnesses, which was a bit campy at times, but if you have a child who is interested in Spider-man and are visiting New York I would suggest taking them to this show. The sets and costumes were made to look 2D and flat like a comic book, and there were some good musical numbers. I especially enjoyed the songs by the Green Goblin and the team of villains they created for the show. They did take some creative liberties with the story such as making new villains (by new villains I mean renamed and tweaked pre-existing ones) and had a totally new back story for Spider-man involving a spider goddess.
After going to see the Broadway show and spending the weekend around all the Cosplayers at NYCC, it has put me in the mood for dressing up as a super hero. So, I am very lucky because this upcoming weekend is Halloween weekend! I will be greening-up to be the She-Hulk. I promise to post a picture of my costume next week! If you are dressing up, I would love to know what you are going as! Please let me know in the comments below.