Whosoever Holds This Hammer appears every Tuesday exclusively on Comic Book Daily.
Have you ever wanted to purchase caffeinated Stay-Puft marshmallows? Or a Spider-Man snuggie? Or a life-sized replica of Darth Maul? If the answer is yes then you are in luck; I know just where to find these useless, and pricey, items.
As some of my readership may know, all comic books are ordered from a distribution company named Diamond. Every month Diamond puts out a catalogue that is 2 months in advance of sale (so this month's catalogue features items on sale in January) that is called Previews. So once a month your local comic shop is all a-glow with nerdy excitement as fanboys and fangirls flip through the pages to see what new and wonderful comic books are coming down the pipe.
Or, I should say, customers look at the front of the Previews to see what comic books are coming soon; they look in the back of the catalogue to find items for far more esoteric and eclectic tastes. You see, my loyal readers, the back of the catalogue has all sorts of crazy stuff. T-shirts, toys, posters, games, statues, gifts, replicas, cards, and the list goes on and on. When I just give the categories of the items  it doesn't seem so strange, but trust me, some of the items are definitely whiskey, tango, foxtrot products.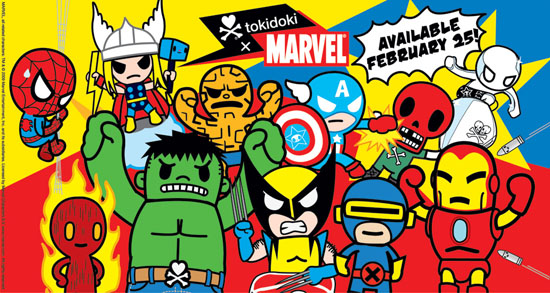 Let's take a look at the latest Previews guide, November 2010, available now at all fine comic shops. I always like to start my trip to crazyville at the T-shirt section. There are some standard superhero symbol shirts, but there are also some super-crazy pieces of apparel for the most discerning of fanboys. On page 330 there is a Joker shirt that says "Vote for me or I'll kill you". Anyone who can tell me the significance of this saying as it pertains to the Joker please leave a comment with an issue number for reference. For a mere $350 you can own a replica Stark racing jacket from Iron Man 2, page 331. There are 2 gems on page 332 where you will find a replica Luke Skywalker New Hope Ceremony Jacket, you know, that goofy yellow thing he wears at the end of the movie, and a World of Warcraft Murloc Green Zip-Up Hoodie. Isn't it funny how when you put certain words together in a sentence they become more confusing than if separate? And on page 333 you will find a Tokidoki, which I only can assume is Japanese for messed up, Marvel shirt depicting the Hulk about to rip a luchadore in half.
Do you see how bizarre some of these products are? I have basically just looked through 5 pages of stuff.  It gets even weirder once you get into the toy section. Again, there are your standard superhero toys that you would find in any Wal-Mart or Toys R Us, but there are also the rejects from the island of misfit toys. Would you like a Hippy Kong Trexi Vinyl Figure? Or Ragnar's Pepper "40 Whacks" Vinyl Figure: I don't even know what that means, it seems to be some sort of psychotic axe murderer in an oversized novelty top hat? What about some Harry Potter Battle Wands: someone is going to lose an eye? The most outrageous of the "toys" are the super-slutty anime statues of super-heroines or ten year old girls, who may become boys if they touch water or eat after midnight. To each their own, but anime has some weird stuff going on.
My favourite of the super-weird products is in a section called Geek Grab Bag (this month on pages 382-383). Here you will find Zombie Jerky: it is Teriyaki flavour, and I only can pray it is may out of some sort of foodstuff and not real cadavers, and Gamer Grub. I need to give you the full explanation for this one.
"Multiple browser tabs open. 11 applications running, a voice chat going, and 2 games running on multiple systems. When you're gaming like that, you need a snack that can keep up, and that's where Gamer Grub comes in! Gamer Grub is a delicious performance snack packed with essential vitamins and neurotransmitters to keep you focused and quick. Just "tear 'n tilt" into a pack of Gamer Grub to multitask and game!"
Wow. I don't even know where to begin. First off, if you are "gaming like that" I should come over to your house and punch you in the face for your own good. Secondly, what exactly is a performance snack? Is this the steroid equivalent of junk food? Will the various video game tournaments need to come down hard on gamer grub? Also, while there might be "essential vitamins" in these I am truly doubtful of any nutritional value found in such a dubious product. But my favourite part is the eating instructions: hey fatso! Yeah you! You giant tubbo! Don't stop gaming for anything! Just pour this beastly concoction down your gullet! Oh, and here are some Depends. Game on.
And now you all know why I love the Previews Guide. I get $4.5o worth of entertainment out of it. If you have never checked it out run, don't walk, to your local comic shop. And pick me up some zombie jerky while you're at it.