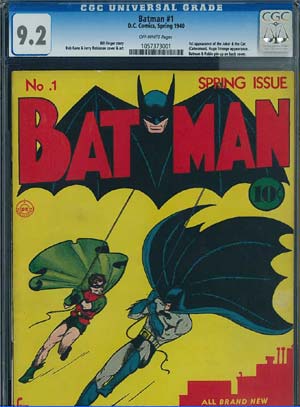 A CGC graded 9.2 copy of Batman #1 brings $850,000 in a private sale through Heritage Auctions.
I've always believed Batman #1 to be undervalued so It's nice to see someone else thinks the same way. These guys however are willing to put their money where I'm only willing to put my mouth (somehow that sounds wrong).
As of this post this CGC 9.2 copy is the highest graded of the 69 graded universally (no restoration, no signature), the next best copies are two graded at CGC 9.0.
A couple or weeks ago put up a post asking are #1 issues overvalued if they do not represent the 1st appearance of the character (Batman 1st appeared in Detective Comics #27 a full year before Batman #1 came out). This result seems to answer that question as far as this book is concerned anyway. Batman #1 of course contains the 1st appearance of the Joker and the 1st appearance of Catwoman and it is the #1 issue of one of the most collected titles in comics.
This is a strong result and reinforces the trend towards big money for big Golden Age comics.