Came across this wonderful letter in my inbox this morning: Captain America has sold out to Corporate America!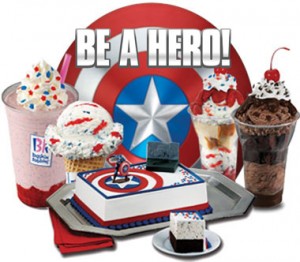 [quote]Dear Customer,
Celebrate Captain America at Baskin Robbins!
With the highly anticipated release of Captain America: The First Avenger out this summer, Baskin Robbins will be celebrating and joining forces with newly delicious Captain America themed shakes, sundaes, ice cream and cake!!!.
Ice cream lovers and moviegoers of all ages can join in on the hype of celebrating one of the greatest superheroes while staying cool by visiting any of our Baskin Robbins locations.
So what are you waiting for!! Be a hero, have fun and make your summer extra sweet by rewarding your taste buds to some irresistible Captain America goodies today!!!
Thank You for your continued support. We look forward to serving you with delicious treats for many years to come!!!
Best Regards,
Baskin Robbins Canada[/quote]
A Dunkin Donuts ad made the rounds last week and now we have Captain America ice cream treats.  Is this Marvel hedging their bets on the movie?  Is this a sellout or smart marketing?  Give us your thoughts in the comments below!