A book with two versions listed and a different ship date from every online bookseller: exactly what and when is Fantagraphics offering?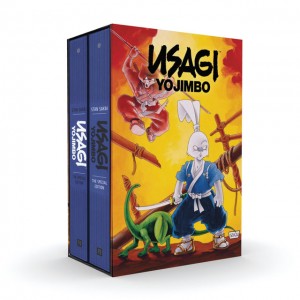 A few days ago I was perusing the Fantagraphics website and noticed a solicitation for Usagi Yojimbo: The Special Edition, a two volume slip-cased 1200 page collection of the first ten years of published material for $100 and shipping December 2010.  Here's the publisher's blurb and below is from an interview with Stan Sakai.
Sakai told us Fantagraphics first approached him about doing a special deluxe collection of the original material in conjunction with Usagi's 25th anniversary in 2009, but the project was eventually pushed back to 2010. "It'll be all the Fantagraphics stories in a two-volume slipcase hardcover edition. I'm looking forward to it," Sakai said. "It's also going to publish all the extras that were only in the hardcover [collections], with the exception of the full-color story that was published in the book 4 hardback, because that was reprinted recently in [Dark Horse's] 'The Art of Usagi Yojimbo.' But this is the sketches and covers and things that were included with the hardcover editions. So it'll be a lot more, plus it'll be about the same price as buying them in the trade paperback." The slipcase edition will also reprint an early interview with Sakai, updating it with additional commentary which the author composed in recent months, and Usagi's crossovers with the Teenage Mutant Ninja Turtles, some of them rarely seen.
While the "Usagi Yojimbo Special Edition" collection will be presented in a limited edition not to be reprinted, Fantagraphics will continue to offer paperback collections of its "Usagi" material.
Yikes!  This is a stunning offering and hits all the marks for me: I had read a few stories and was in the process of tracking down a decent collected edition.  I skipped over to Amazon.ca to see what it was going for and noticed a second listing for a Limited Signed Edition; same blurb as the regular edition with a different ISBN, 978-1-60699-154-1 versus 978-1606993323, and shipping date of July 12 2011.  Fantagraphics had no mention of this Limited Signed Edition on their site, and neither did Amazon.com or Book Depository.  Chapters.ca did list it with the same July 12 2011 shipping date; as well they listed the regular edition as shipping December 7th 2010.  Amazon.ca listed the regular edition shipping October 26th 2010, Book Depository listed it shipping November 25th 2010 and Borders.com listed December 6th 2010.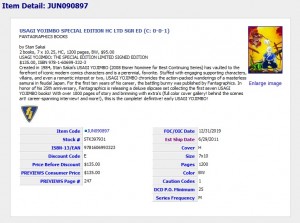 So for the regular two book collection we have a different shipping date at every online store and a limited signed edition only offered on Canadian book sites.  I decided to look at Diamond's listings to see what they had.  Much to my chagrin they had both versions listed with a ship date of June 29th 2011 for both!  What's interesting is the item code which identifies what month and year the item is solicited: the regular edition is SEP10 and the limited signed edition is JUN09.  A quick web search located the Diamond Previews list from June 2009 and both versions were solicited: the regular edition had an item code of JUN090896.  Searching that on Diamond brought up the SEP10 listing with RES in the title indicating it was resolicited.  Various web searches for the limited signed edition ISBN and Diamond code brought up a listing for the June 2009 offering, including Comixology who showed an August 2009 shipping date.
At this point I went to the source: Fantagraphics.  A general email under Contact Us didn't get me a response so I contacted Jacquelene Cohen, Director of Publicity and Promotions.  Here's her quick and much appreciated response:
The Usagi SE does release this month.  The editions are not signed and numbered and they do not include a signed bookplate.  In the future we are going (to) offer signed bookplates when the books are ordered from Fantagraphics.com.
And from a follow-up email:
According to the book's editor, it wasn't solicited as a signed and numbered.
Unfortunately we know that's not the case.  Both editions were solicited in June 2009 and the regular edition was resolicited September 2010.  Most likely Diamond never received cancellation notice of the limited signed edition and therefore online retailers who use Diamond didn't either.  The good news is we'll see Usagi Yojimbo: The Special Edition this month; the bad news is it looks like there will be no limited signed edition.  Best bet is to bring your copy to Boston Comicon next year and get it signed yourself.