It was the morning of the royal wedding. Armed only with a phone and a promise… I started my day with an air of uncertainty.
A slow start in Westminster… the station is closed, I jump the tube at St James' Park and take a short walk. People everywhere draped in the red, white and blue of the Union flag, hats, t-shirts, banners… and a thousand smiling faces all pointing in the same direction.
Walking slowly (and together). We navigate the streets of London through a maze of security barriers and deserted roads, eventually reaching Parliament Sq… the epicentre of all things British for the rest of the morning.
Standing on a bench, in the south-west corner of the square I can see the entrance to Westminster Abby – and I'm just in time to witness the arrival of the royal bride to be. Ever so polite cheers from the crowed wave toward us – as the car approaches.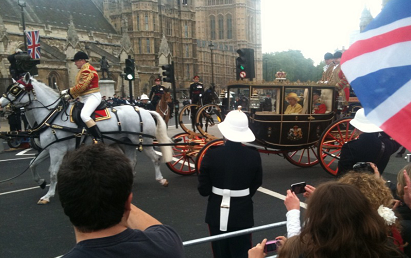 The ceremony can be heard on loud speakers as the excitement builds for the next hour… Big Ben reminding us every 15 minutes where we are. I'm sharing champagne with strangers and singing the national anthem… the streets are lined with endless military officers and police in their finest dress uniforms.
Royal vows shared… at noon I find myself in the south-east corner of Parliament Sq and Before long – the calm is disrupted by a distant cheer and clapping… rumbling toward us… again. All the queens horses – and all the queens men pass me by…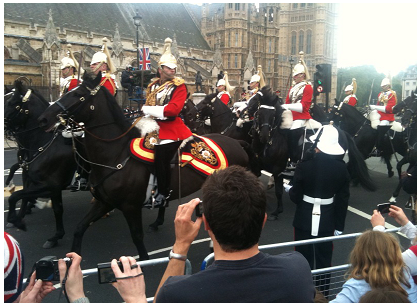 They're followed by a royal chariot, carrying the newly married nation's sweethearts.
A massive sense of pride owns me for a few seconds… then the queen herself treats me to another picture opportunity. The wedding day continues on for the newlyweds and I make my escape… in the search for 'savvy' comic book store owners cashing in on the abundance of excited tourists looking for a souvenir.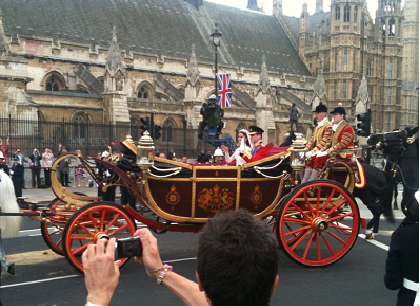 I make my over to Comicana, a small and humble comic book store on Shaftesbury Avenue.
Upon my excited arrival – I find a friendly 'comic book guy' inside named The Beast 😀
He politely explains that, for a comic book store (like this one) to cash in on something like Royal Wedding is 'tricky'… but not impossible…
He went on to explain that the Royal Wedding graphic novel A very public love story sold out very quickly… weeks before the big day. The Beast was busy tidying the store and filling the shelves with new books, excited about Free Comic Book Day… and was eager to encourage me (and friends) to come along and enjoy the day with him. Which I promised to do of course.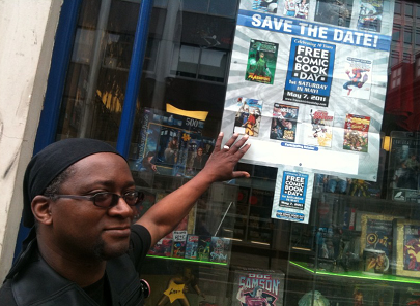 After a very personal encounter with The Beast at Comicana, I made my way over to Forbidden Planet, a much bigger… more commercial store. I expected a mass of flags and banners and noise and tourists… But, sadly… It was no different to any other day. I couldn't actually find any copies of A very public love story… neither could I find any available staff members to advise me on sales etc… allot less personal in this store but – still, enough cool stuff to keep me inside for some time.
I think most small stores (like Comicana) could've seen a massive increase in sales on a day like this… with so much scope to really cash in!!! It would've been cool to see Will's and Kate lookalikes handing out flyers for free comic book day… or giving out free scones or something?! (equally as British), or Captain Britain giving out hats – and taking pictures with kids in the street outside. I was hoping for a little more imagination… that said, I did only visit 2 stores. A great day to be in London, a brilliant memory for everyone who was there to see it… an opportunity missed for the comic book shops perhaps.
Hats off to The Beast at comicana for his friendly nature and refreshing customer service. The queen herself would feel at home in his store… leafing through 'new this week'.
Verdict – Quite a spiffing day indeed… note to comic book stores in general though… must try harder. Bravo – and shame on you, all at once.