Many people thought it was pretty strange when DC snapped up David Finch for an exclusive and then barely used him. (Sure, sure a cover here and there, and, like, two pages on Batman #700.) Was this going to be another Kubert-type exclusive?
While Rich Johnston was claiming that Finch was lured over to DC with the promise of art AND writing, most of us figured that we'd have to wait 'til Comic Con later this month for the announcement… and then DC went and announced it today.
It seems that Mr. Finch will be writing and drawing a new ongoing Bat title called: Batman: The Dark Knight.
Starting in November, Finch will take the reins of BATMAN: THE DARK KNIGHT, a new ongoing Batman title featuring the hyper-detailed and kinetic artwork Finch has become known for plus his unique and yet classic interpretation of the Caped Crusader.

Can't wait until November? The fun begins in October, with BATMAN: THE RETURN, a one-shot featuring Finch's masterful pencils and words by Morrison, kicking off a new era for the Dark Knight and giving fans a quick taste of what's coming in the new ongoing.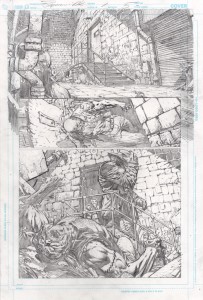 While the promo page that they offer isn't exactly mind bending or all that exciting, it does show off his masterful use of detail (something that I'm willing to be we'll see less and less of as the series progresses, unless of course it's a bi-monthly title.) Finch however says that this series will hue closer to classic Batman stories of the 70s:
"…Maybe the greatest thing about Batman is his versatility as a character. He can be so many things to so many people. For me though, the Neal Adams, Denny O'Neil issues from the early 70's are the most definitive. That work casts a very long shadow over every Batman book that has come out since, and I think its a testament to it's strength that close to 40 years later it remains modern and vital. Batman is at his best with his hands dirty, chasing the worst of the worst with everything on the line. He's a detective, first and foremost. But he's also the enforcer. Nobody gets away with crime under Batman's watch, and he makes sure they think twice before they step over the line again.

The Dark Knight takes Batman outside what he knows, into a world of demonology, dark arts, and mystery. He's the ultimate detective, faster, stronger and smarter than any villian, but now he faces creatures to whom logic and mortality don't apply.

I want Dark Knight to be true to Batman's street level, crime fighter roots. He'll face a rogues gallery that we're all familiar with, but this book will take him on a darker path where he'll be stretched to his physical and psychological limits."
Here's hoping it's good though, because we've all been really spoiled by the soon to be ending Batman & Robin.