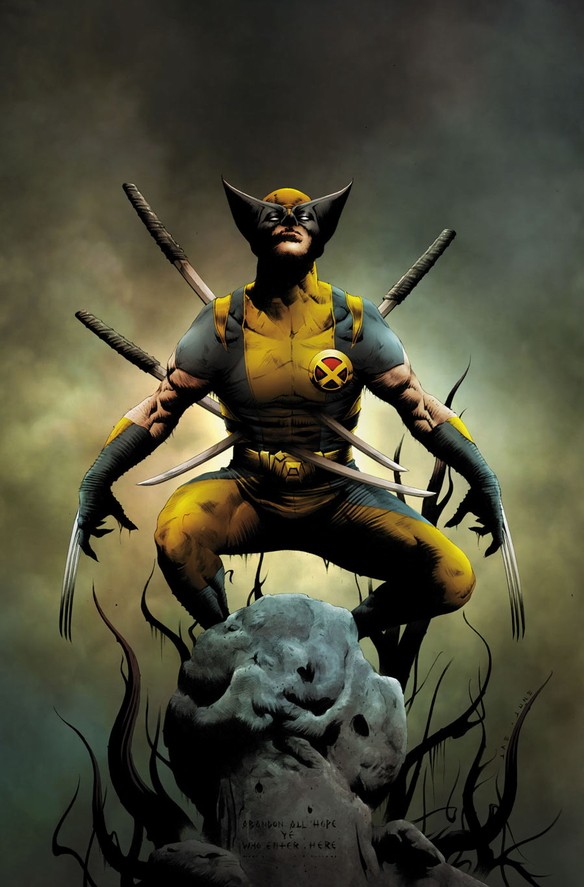 Really? I like Jason Aaron and  I'm looking forward to Wolverine #1 like most people, but I just don't much care for these sales tactics. I mean – let's be honest here; who even gets variants anymore? But maybe that's just my biased and anti-90s nostalgia.
plus: the Jae Lee cover is pretty awesome as is…
Here's the press release:
Official Press Release
As part of Marvel's
unparalleled efforts to provide support to comic retailers in 2010, Marvel is once again offering retailers a chance to turn unsold comics into a rare Marvel variant! The extremely limited edition Wolverine #1 Deadpool Variant will be made available to retailers who return the covers of select Marvel comics.
Retailers – for every 50 stripped covers of the following comics sent to Marvel, you will qualify to receive one FREE Wolverine
#1 Deadpool Variant.  The 50 stripped covers can be any combination of the comics listed below and all submissions need to be received at the Marvel office at the address below by Friday 8/6/2010.  Also included with the stripped covers must be your store contact information including Diamond Account # and email address. With boxes of covers arriving every day, Marvel urges retailers to get theirs in by the due date to guarantee themselves copies of this stunning variant.
Please note: No second or third printings are accepted as part of this promotion.
Stripped Covers To Be Sent:
NEW MUTANTS 12 (XSC)
UNCANNY X-MEN 523 (XSC)
X-FORCE 26 (XSC)
X-MEN LEGACY 235 (XSC)
AVENGERS: THE INITIATIVE 34 (S)
DARK AVENGERS 15 (S)
DARK WOLVERINE 84 (S)
MIGHTY AVENGERS 36 (S)
NEW AVENGERS 64 (S)
THOR 609 (S)
THUNDERBOLTS 143 (S)
Address To Send Submission:
J Nausedas
Marvel Entertainment, LLC
417 Fifth Avenue, 10th Floor
New York, NY 10016
Information To Be Included With Submission:
Store Name
Store Address
Contact Person
Email Address
Phone Number
Diamond Account #
List of stripped covers being returned and their quantities
All the directions above must be adhered to in order to receive the free Wolverine #1 Deadpool Variants and the submissions must be received by Friday 8/6/2010 in order to qualify.
Please note that this is not a Diamond-affiliated promotion and Diamond should not be contacted. Retailers will be contacted via email once Marvel receives the submissions.  Retailer with further questions should contact [email protected]