Diamond releases 2009 stats – Marvel is declared the winner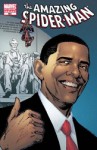 Diamond Comic Distributors reports that 2009 sales to specialty comic shops was just slightly off from 2008, a fact Diamond CEO Steve Geppi sees as positive considering the economic downturn the North American economy experienced this past year.
Marvel reinforced its leadership position by posting a 45.63% market share. Marvel hit the biggest home run of 2009 with Amazing Spider-Man #583, the President Obama issue. ASM #583 sold over 500,000 copies. Almost half the comics sold last year were published by the House of Ideas. DC controlled almost a third of the market while third place Dark Horse held a distant 4.05% of market Share.
Comic book sales through specialty shops remains a two horse race. Combined, Marvel and DC control close to 80% of the market (70% of the dollar share market). Dark Horse, holder of the Buffy, Hellboy, Star Wars, Conan and Aliens licenses, is probably best positioned to make a run at the big 2.
Here are the sales charts:  
2009 TOP COMIC BOOK PUBLISHERS
PUBLISHER
UNIT
MARKET SHARE
RETAIL DOLLAR
MARKET SHARE
MARVEL COMICS
45.63%
40.47%
DC COMICS
32.22%
29.28%
DARK HORSE COMICS
4.05%
5.16%
IDW Publishing
3.49%
4.17%
IMAGE COMICS
3.25%
3.67%
DYNAMIC ENTERTAINMENT
2.16%
2.17%
BOOM ENTERTAINMENT
1.22%
1.31%
OTHER
7.98%
13.76%
 
2009 TOP 10 COMIC BOOKS
| | | | |
| --- | --- | --- | --- |
| Quantity Rank | Description | Price | Publisher |
| 1 | AMAZING SPIDER-MAN #583 OBAMA | $3.99 | MARVEL COMICS |
| 2 | BLACKEST NIGHT #1  | $3.99 | DC COMICS |
| 3 | CAPTAIN AMERICA REBORN #1  | $3.99 | MARVEL COMICS |
| 4 | BATMAN AND ROBIN #1 | $2.99 | DC COMICS |
| 5 | BLACKEST NIGHT #2  | $3.99 | DC COMICS |
| 6 | BLACKEST NIGHT #5  | $3.99 | DC COMICS |
| 7 | BLACKEST NIGHT #3  | $3.99 | DC COMICS |
| 8 | BLACKEST NIGHT #4  | $3.99 | DC COMICS |
| 9 | CAPTAIN AMERICA #600 | $4.99 | MARVEL COMICS |
| 10 | DARK AVENGERS #1 | $3.99 | MARVEL COMICS |
 
2009 TOP 10 GRAPHIC NOVELS & TRADE PAPERBACKS
| | | | |
| --- | --- | --- | --- |
| Quantity Rank | Description | Price | Publisher |
| 1 | WATCHMEN TP | $19.99 | DC COMICS |
| 2 | LEAGUE OF EXTRAORDINARY GENTLEMEN III: CENTURY #1 1910 | $7.95 | TOPSHELF PRODUCTIONS |
| 3 | WALKING DEAD TP VOL 09: HERE WE REMAIN | $14.99 | IMAGE COMICS |
| 4 | WALKING DEAD TP VOL: 10 WHAT WE BECOME | $14.99 | IMAGE COMICS |
| 5 | WALKING DEAD TP VOL 01: DAYS GONE BYE | $9.99 | IMAGE COMICS |
| 6 | WATCHMEN TP INTERNATIONAL EDITION | $19.99 | DC COMICS |
| 7 | SECRET INVASION TP | $29.99 | MARVEL COMICS |
| 8 | BATMAN RIP DELUXE EDITION HC | $24.99 | DC COMICS |
| 9 | FABLES TP VOL 12: THE DARK AGES | $17.99 | DC COMICS |
| 10 | FABLES TP VOL 01: LEGENDS IN EXILE | $9.99 | DC COMICS |