CTV was a major presence at Fan Expo this year by setting up a large booth on the convention floor, bringing in cast members from Criminal Minds and Flashpoint for panels and autograph signings and holding special screenings of its new shows like The Following and Arrow.  I attended the special screening and Q&A session for Arrow which included cast members Stephen Amell (Oliver Queen), Willa Holland (Thea Queen), Colin Donnell (Tommy Merlyn) and Katie Cassidy (Dinah Laurel Lance).  I have not followed any of the casting news or seen any of the preview clips for Arrow so I watched the screening of the first episode as an "average" TV viewer with limited knowledge of the Green Arrow comic character.
I enjoyed the first episode of Arrow and I saw enough that made me want to see at least the second episode (if not more) of the new series.  I find some "origin" episodes tedious and boring since it has to set up the series and explain how the hero got to where he is today.  However, I found the first episode of Arrow to be very entertaining because the story unfolds in a non-linear manner.  The background on what motivates Oliver and how he changed from carefree trust fund playboy to a darker Oliver is told via flashbacks.  Not everything is revealed but there enough details to move the story along.  I liked the one fight scene that did not involve any arrows.  You can see how the original Jason Bourne trilogy has influenced the choreography of mano-a-mano fights these days with Arrow following suit.  The scene even had some parkour moves during the chase.  The episode ended with a very interesting and unexpected plot twist as it reveals who the potential really enemy is.
There are plenty of references to the Green Arrow comic universe in the first episode to make fans of the comic happy.  In the opening sequence, we see a Deathstroke mask.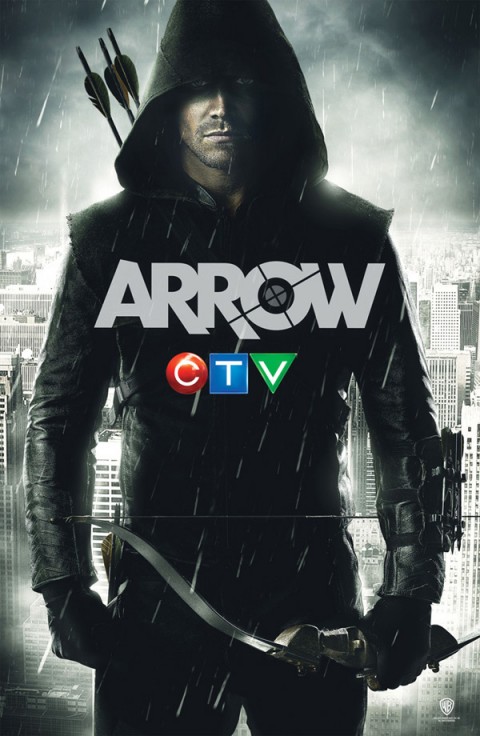 We learn that Oliver's best friend is Tommy Merlyn and Oliver's nickname for Thea is speedy.  Throughout most of the episode, Oliver's former girlfriend is referred to as Laurel.  Near the end of the episode, we find out her first name is Dinah.
After the screening, Ben Mulroney hosted a Q&A session with the four cast members.  Stephen did not think "Green Arrow" would be used to refer to his character.  In fact, the producers wanted to call the show Oliver Queen if they could.  He assured fans that the linage of the character would be respected.  No one on the panel knew why the city in Arrow was changed to Starling City from Star City but Stephen revealed that other DC Universe cities will be mentioned in upcoming Arrow episodes.  Stephen mentioned that there were a lot of Easter eggs in the first episode for comic fans and that other well known DC characters will make appearances in the series like the Huntress and Deadshot.  Someone asked whether he can expect to see Green Lantern in Arrow.  Stephen replied saying that based on the scripts he has read, it would be difficult for Green Lantern to exist in the Arrow universe.  There was a police sketch of the hooded archer in the episode and it was drawn by Mike Grell.
There were some questions directed to Katie.  She did not know if Laurel Lance would receive any super powers in the future.  Katie was not worried about any comparisons with her character to the one in Smallville.  All Katie wanted to do was make her character authentic.  She also took the role of Laurel before they casted Stephen as Oliver.  She said pictured Oliver to be played someone who looked like Stephen and was very happy he got casted into the role.
There were questions specific to Stephen and his preparation for the role.  Stephen said he loves archery and made a point to always keep in good form for all his archery shots in the show.  It was difficult to do because all the arrows he shoots were all done with CG.  He also will do as many stunts as they let him and prefers to do all the fight scenes himself.  It took 17 days to shoot the first episode but they only have nine days for the other episodes so it will force them to make practical choices.  All the acting choices he made in the first episode were based on the script.  He did not read any of the Green Arrow comics until after shooting the first episode.
There were also some questions on the storytelling.  Stephen said that flashbacks will be part of most Arrow episodes.  However, he warned that some flashbacks might not directly relate to what is going on in the present.  Also, what happened on the ship will all be revealed future episodes.
Someone asked what John Barrowman's role on the show was and no one knew.  Even John Barrowman at his Q&A session held later that day could not shed further light on the role.  He confessed that he did not get any more information on his role other than he plays a "well-dressed man."
For anyone interested in watching Arrow, the first episode will air Wednesday October 10 at 8 p.m. ET on CTV Two.  It is worth checking out.