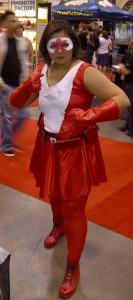 There is a lot of buzz around Captain Canuck lately. A month or so ago CBD reported that Mind's Eye entertainment hired Canadian writer Arne Olsen to write the script of the promised Captain Canuck feature film. Now, just before Fan Expo a teaser video appeared on the captaincanuck.com website promising that an animated Captain Canuck series is being developed for TV.
Captain Canuck creator Richard Comely, spent the Friday and Saturday of Fan Expo signing at the Big B Comics booth. "It was a bit overwhelming at times" Comely said of the fan response to his appearance and to the animated project.
It was a privilege hosting Richard at the Big B Comics booth, the man never stopped signing, sketching, shaking hands, taking pictures and chatting with all the fans that had come to see him.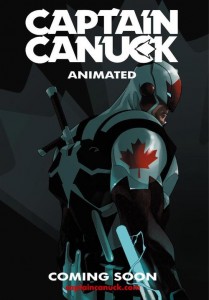 A new Captain Canuck Animated poster was available for free at the booth and Mr. Comely signed hundreds of them. Meanwhile Captain Canuck Animated artist Kalman Andrasofszky was busy signing and giving away stacks of the posters over in Artists Alley. I only noticed a few intrepid fans bring the signed Kalman poster over for Comely to sign as well.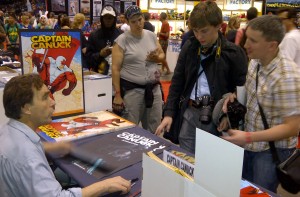 What struck me most was the broad cross-section of fans that Richard and Captain Canuck attracted, most of the fans were young people, eager to find out more about Captain Canuck and very excited about the prospect of a new animated series.
Later on the Saturday Captain Canuck himself showed up to the delight of picture takers in the area. Huh, the people probably thought he was just another cosplayer!