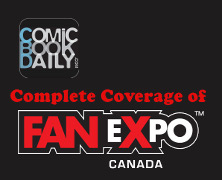 Sorry for the delay, but con has been exceptionally crazy. It doesn't help that this is the first year that I'm not in a hotel right by the Metro Toronto Convention Centre and so the logistics of travelling back and forth from my Mom's has proven to be more of a pain in my ass than I had anticipated. However, the extra money to purchase more things at the con? Well worth it. But with con over, I'm finally home and, with a good night's sleep under my belt, I'm ready to tackle the rest of my con coverage (which only involves me putting together a somewhat coherent article based off of my not-so-coherent notes).
I have to give it to those who've worked so tirelessly to improve this year's Fan Expo, you've done an awesome job! Yes, it's still chaotic but it's a controlled chaos. At something like this, you can't ask for more than that. The extra space has definitely helped.
I co-moderated a panel on Friday with Brent Chittenden on "The Four Colour Marriage: Couples in Comics" and I will admit that there were times when I got a little teary-eyed, hearing the couples talk about their lives together. I have to extend the utmost thanks for the guests for being so amazing. I learned a couple of things (this was the first panel I had ever moderated) and, while things didn't get as epic as Brent's Fantastic Four panel on Thursday evening with Marco Djurdjevic, I think it was still pretty awesome.
The panel was entertaining and fun to do. My only regret is that we didn't throw it over to the audience and their questions sooner than we did. It was abundantly clear just how much each of the panellists loved and respected their significant other. I found that there was three distinct relationship "types" based off of (my perspective of their) interactions during the panel. Kathryn and Stuart Immonen seemed consummate partners. Kelly Sue DeConnick and Matt Fraction seemed like one of those cutesy, lovey-dovey couples. Brian Azzarello and Jill Thompson seemed like one of those fiercely passionate and intense couples.
I also moderated a sketching duel, "Women in Comics: Fan Expo Edition", which was so much fun! It involved four artists: Jill Thompson, Agnes Garbowska, Katie Cook, and Sara Richard. I think I preferred it to moderating panels as it involved a very hands' off approach. I did little else than facilitating audience participation and projecting the artists' sketches onto the screen using an Elmo. It was very chill and I was very happy to just sit back and listen to the artist tell stories (including creepy convention stories), how they got into comics, and talk about their processes. They all shared their favourite female characters:
Jill Thompson: Phoenix, Kitty Pryde, and Storm from the Claremont days
Agnes Garbowska: Wonder Women (in the little shorts) and Rogue
Katie Cook: Betty and Veronica as well as Wonder Woman
Sara Richard: Catwoman. Shauna: The She-Devil, Gossamer, and Tank Girl
I also enjoyed watching Jill Thompson work her sketching magic (she was sitting right next to me) and, when all was said and done, I wish that I could have absconded with all of the sketches. They were THAT magnificent.
Oh, if you haven't already, I'd really recommend reading Katie Cook's idea for what would possibly be the best Batman story ever written.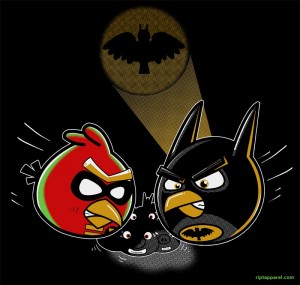 I wore my "Angry Bats and Robins" T-shirt and it was a huge hit. I ordered it from Ript Apparel, a Chicago, Illinois based web store that offers one-of-a-kind limited edition designer art t-shirts (one design per day, every day). It's currently unavailable to order through them. HOWEVER, it is available to order over at the designer's (Seth and Spir, who have an uncanny ability for pop culture mash-ups) RedBubble store (where there are a number of other Angry Birds/Superhero mash-up shirts that I'm currently coveting).
Shelley Smarz is a comic book scholar and business woman. She wishes that she no longer had an office job so she could wear her pop culture reference/geeky/superhero t-shirt collection more.