For everyone who purchased a Fan Expo pass (premium, deluxe or day) in advance through Ticket Express, today is the first opportunity you can pick it up.  The box office is located today at the lobby of the South Building of the Metro Toronto Convention Centre.  This is the first time Fan Expo has opened the box office this early.  Normally, the earliest opportunity you get to pick up your pass is a few hours before Fan Expo starts on the first day.
I always had problems getting into Fan Expo on the first day for the 2 hour preview.  As Fan Expo grows, more people purchase their passes in advance.  However, there never were enough people working at the box office to process the initial wave of deluxe pass holders to allow them to get into the show early.  It is a good problem to have from a business perspective since it means there are many people committing early to attend Fan Expo.  Unfortunately, it lessens the fan experience.  Allowing people to pick up the ticket two days in advance is a positive fan friendly move by Fan Expo.
Did a lot of people take advantage of this?  Not as many as I expected.  I arrived at the South Building at 5:50 PM.  I was surprised to see no one in line.  There were three people at the booth available to process the tickets.  I asked one of them if there were many people coming today to redeem their tickets.  She said that there were some.  She expects to have a lot more people tomorrow.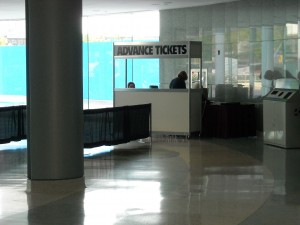 The box office is open again tomorrow (Wednesday August 24) at 11:00 AM until 8:00 PM in the South Building.  For the rest of the week, the box office is in Room 206 of the North Building.  Room 206 is close to the escalator you need to use to get to the walkway that connects to the South Building so it is not an inconvenient location.
I wonder if this room is for the ticket buyers as well.  If it is, it should eliminate the problem Fan Expo had on Saturday morning of 2009.  The fire marshal did not let people into the South Building because there were too many people waiting to buy tickets on Level 600.  The line up to get into the building was all the way down Lower Simcoe to Front Street.  It is a good logistic move to separate the ticket buyers/advance pass purchasers from the actual convention space.  I think Hobbystar tried to do that last year with moderate success.
For the folks who bought their pass through the Rogers Wireless Box Office, there will be a Rogers tent near the entrance of the South Building to get your wristband.  The tent will be open beginning Thursday.