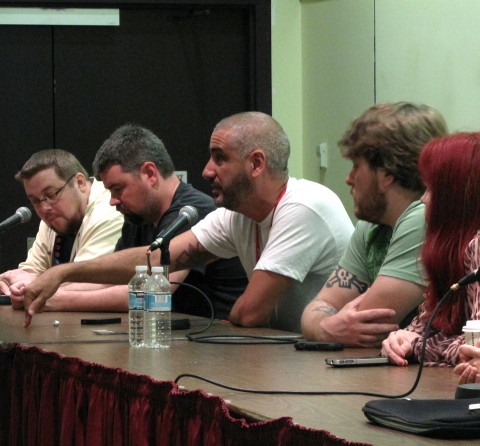 Marvel Comics announced two new titles for its CrossGen imprint slated for release in the near future.
In December, CrossGen will be the home to a new Kiss Kiss Bang Bang four-issue limited series, featuring star writer Peter Milligan at the helm.
Marvel's Director of Communications Arune Singh told a packed crowd at the company's "Next Big Thing" panel at Fan Expo on Aug. 28 that if you want a good, fun comic book with good-looking women and buff guys, this is the series for the you.
Kiss Kiss Bang Bang, originally a five-issue ongoing series published between Feb. and June 2004, was written by Tony Bedard and pencilled by Mike Perkins. The series starred Charles Basildon, a spy working for MI6 in a 1960s James Bond styled landscape. The series indulged the cultural dynamics of that period and featured the title character travelling to exotic locations with 1960s styled action and sex. The re-imagined series will also feature Roman Rosanas on art.
The second new series Marvel announced at Fan Expo is a re-imagined Route 666, which will feature Roberto Aguirre-Sacasa's writing, while Peter Nguyen will join Sacasa on the title as artist for the four-issue limited series. The series' first issue will launch in February 2012.
Associate Editor Sana Amanat described the series as a horror/crime mystery that takes place along the infamous Route 666 highway that stretches from Chicago to Los Angeles, adding the tone of the series is a little X-Files meets Happy Days.
"There's going to be a little bit of shock, horror, mystery and suspense," she said. "It's really a beautifully written, interesting story."
Singh said Marvel couldn't be happier that they're able to transcend the stereotypes of comic books and offer a broader scope of stories, believing the comic book medium is much more than superheroes.
"We couldn't be happier with what we have, we want to have something for everybody," he said of Marvel's desire to reach a broader audience with books from its Icon and CrossGen imprints. "We're looking to bring different readers in and CrossGen has been good to us."
Additional Notes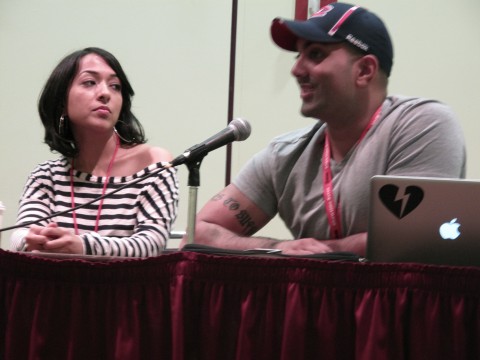 The panel spoke about their "Season One" line of comics, which will feature early stories about the X-Men, Daredevil and Spider-Man. "They are ways to introduce readers to the characters," said Singh.
Kelly Sue DeConnick spoke about her work on the forthcoming Castle graphic novel, a trade focusing on characters created on ABC's hit television series starring Nathan Fillion, Castle. The book will delve into the idea that Castle's latest muse on the television show, Kate Beckett, played by Stana Katic on the series, has always been the voice in his head. The characters will not bear the likenesses of Katic or Fillion, but they've tried to channel their personalities as best they could. In an attempt to cross-promote, DeConnick joked it's a great graphic novel for anyone who's a fan of Firefly.
The panel said 2012 will be a big year for the X-Men, adding that Fear Itself, Schism and Children's Crusade all are intentionally ending at the same time so they can get their "ducks lined up" in a row as the X-Men expand out into the greater Marvel Universe. "If you're a fan, these are three big events that really have a pay-off," said Alonso.
The Runaways will not have another series in the near future, but characters from the rag-tag group of teens will be popping up across the Marvel universe. The panel specifically mentioned the Bendis penned  Moon Knight series which will feature Wolverine's son Daken arriving in Los Angeles, where the Runaways also happen to call home.
A fan asked whether there were plans to expand the Ultimates universe, to which Marvel Editor-in-Chief Axel Alonso replied that they want to keep it trimmed for the moment.
Alonso made a point of addressing comic book pirating, stating that if fans love a series, they should go out and buy the issues. Pirating is what is getting books cancelled.
There are no plans for a new Nick Fury centric series, now with Secret Warriors coming to an end. Senior Vice-President, Creative and Content Development C.B. Cebulski said fans should keep an eye out for both Daisy and Fury, as they'll be popping up in books across the Marvel comic book line.