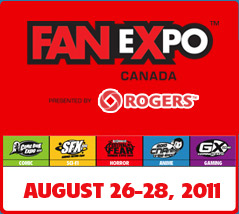 There were rumours earlier this year that we were going to see big changes with the 2011 convention. Last year's event was mired with fan complaints and issues with accessibility. Hoping to change that, Fan Expo has officially expanded to four days to better suit the needs of this growing convention. We had a chance to sit down with Fan Expo's Kevin Boyd to talk about what Canada's largest comic convention has in store for its 17th year.
What is going to separate Fan Expo 2011 from every other convention this year?
That's a great question Peter. In my mind what makes it separate from every other convention is that it is OUR Convention – OURS as in the biggest and most important CANADIAN comics event on the schedule. Sure, there are other fantastic events on the schedule in Toronto and in other parts of the country, but this is the Canadian equivalent of San Diego Comic-Con — you'll note on our site our tag line is now "celebrating 17 years of Comic*Con North" and we aren't kidding around. In the case of Fan Expo Canada the creators, celebrities and companies are coming to CANADA, and this is the biggest and most important show on the schedule for our Canadian exhibitors and creators, and it's the third largest event of its kind in North America. We are 100% Canadian owned and operated, and we do not discriminate – all types of comics and creators are welcome at Fan Expo Canada.
With the move to four days, how much of a cost increase are we going to see, if any? And if so how much will it be?
There is going to be a cost increase for the weekend pass, definitely. I don't know what that increase will be at this time, as that's still being finalized. We're expanding the hours as well. Thursday will run 4 to 9 (2pm for VIPs), Friday 10-8, Saturday 10-8 and Sunday 10-6. We are going from 20 (22 for VIPs ) to 33 hours(35 for VIPs). That's an additional 13 hours of time with the guests, time to visit the exhibitors, time to enjoy our programming. That will hopefully mean a HUGE bonus for the fans and make an increase justifiable. Plus, the exhibitors who rebooked at Fan Expo back in August will not see an increase in their fees this year — any new bookings will have an increased price though.
In terms of organization of lines and layout, what's going to be different this year, so as to avoid some of the problems that plagued last year's Fan Expo.
I think the first thing to take into context will be that the show will be in the South Building, which is better suited for the admissions process and for crowd control. A few people were upset with our President's statement that we were unfamiliar with the North building, but it really was like trying to fit into a pair of jeans that were the wrong size. It was a bad fit. Management had to work with the Metro Toronto Convention Centre to come up with a means to get people in and out of the event and clearly this did not work as hoped. I was working on my end of the show and getting a lot of scary feedback and reports, and I'm left with mixed feelings because the guests and the fans I spoke to who were in the show were having a great time.

In the South building we have more interior staging areas and the VIP entrance will be restored as it was in 2009. We've rented every square foot in the South building. We'll be working with Ticketmaster to improve the process for Advance Ticketholders so that the delays they experience in 2010 are not repeated. With the expanded hours we should be able to meet the demands of the crowds, and we'll be able to better anticipate the number of people that can be accommodated in the space we have available.

One thing that cannot be eliminated completely are the lines. Last year we had to move 65,000 people in and out of the Expo and there's no way that the lining up process can be avoided – we can only do what we can to keep those lines moving and thank the fans for their patience.
How are you addressing some of the concerns of those who pre-purchased their tickets online?
Tickets go on sale in the summer, and we are still working out the logistics of making the process faster, simpler, and more efficient. As I mentioned before, a lot of this is done in partnership with Ticketmaster.
Are comic creator guests committed to four days and if not are you planning on scattering them across so that there's a decent amount of guests every day?
Our plan is to have the headlining guests from outside of Toronto there (for comics) all four days. If they or any of our local creator guests cannot attend all four days we will indicate this on our website, which is what we have been doing to date.
Can we expect a larger presence from the video game pavilion?
Yes, it was mentioned at our last meeting that there are big plans for video games at Fan Expo Canada 2011. I have to warn you up front that my area is comics, so I often am out of the loop on the other areas of the Expo like gaming and horror.
Will you guys be embracing social media as a way to communicate with convention goers? Will you be listening to  ideas from fans and customers to make the experience better?
Re: Social media – definitely. We will have staff dedicated to running our social media outlets such as Facebook and Twitter. There has been talk of adding an iPhone Application.

Audra Jacombs, formerly with Rue Morgue, was brought in last fall to communicate with fans and customers who had negative experiences at Fan Expo Canada 2010. Audra was then hired after that process to work for show management year round to advise on the entire process and relay those concerns and complaints so our management staff can eliminate or minimize as much of them as possible. She'll be making sure our various coordinators are all informed and communicating their concerns back to management.
Have you noticed any issues in trying to cater to so many niche markets?
Not personally, no. Each fanbase has their own needs and concerns. I'm active and communicating with the comics community and they are my primary concern. I sometimes think about how a certain guest or programming concern might be a great crossover opportunity, but that's a secondary concern for Tiziano and I on the Comic Book Expo components.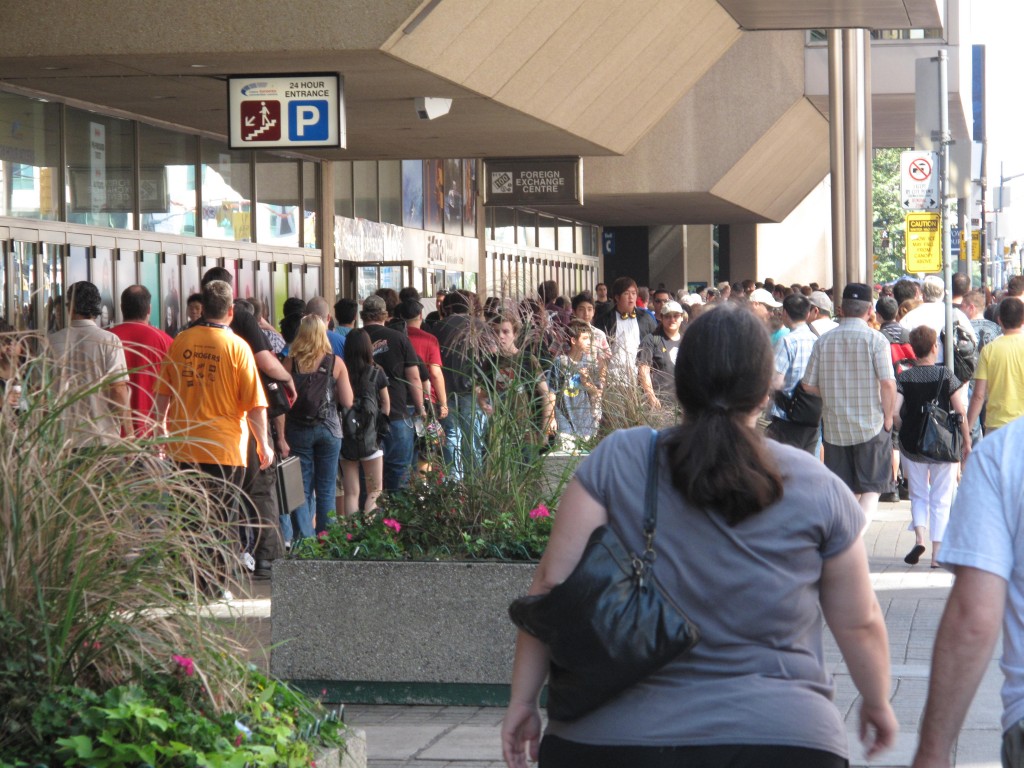 How do you think the bigger businesses like movie studios, Zellers, marvel and DC being there affect the smaller businesses and exhibitors that will be showing?
Generally the bigger comics publishers being there is a benefit to our comics retailers as the publishers don't usually sell product directly — they are there to promote what they have coming out now and in the coming months to the comics community, and to communicate directly with the retailers who attend the show.
Do you have anything in development at this moment that you're excited about, and maybe can you give us a couple of clues about what we should look forward to?
Adding another day and extended hours means more programming, which means more work for me! Unfortunately I can't reveal any guests at this time, but our corporate support is even better this year than it was last, and the presence of more publishers and companies means more potential guests and more company-based programming. As far as Canadian guests go, my other job at Fan Expo — I'm always excited to work with the Canadian comic book guests, and we'll see some new faces in 2011.