If – two years ago – you would have told me that Kieron Gillen would be writing the shit out of Marvel Comics I'd probably have told you that you're being a bit over confident.
Gillen is a fantastic writer, but I wasn't exactly sure that his vision would meld well with Marvel's output.
Gillen, afterall, came to my attention through his 'music is magic' series Phonogram, and I quite honestly expected him to be snagged up by Vertigo to write more creator owned books. He seemed like the kind of guy who could easily become the next Neil Gaiman…. but maybe for the hipster crowd. (Kind of like what Brian Wood will eventually be.)
But after being snatched up for a few one shots here and there (including the way better than it needed to be Siege: Loki) and the unfairly cancelled S.W.O.R.D ongoing he finally got a shot as fill in writer for Thor between Stracynski's and Fraction's take on the Odin's son.
and now it looks like he's joining Fraction as co-writer on the flagship X-title – Uncanny X-Men.
Marvel released the press release below, which is – in a good way – cherry picking some of Morrison's best New X-Men ideas, including the return of the sentient germ – John Sublime!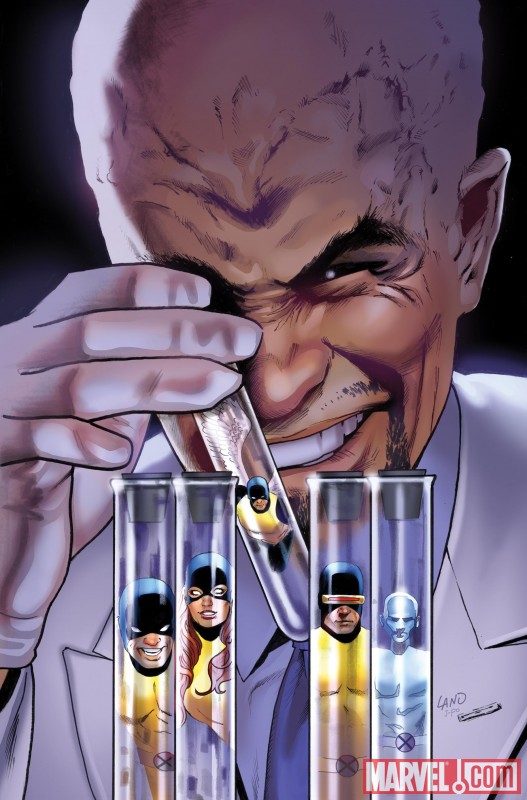 Marvel is proud to announce that newly-exclusive writer Kieron Gillen (Thor, Generation Hope) will join Eisner-winning, superstar writer Matt Fraction as co-writer on Uncanny X-Men
! Beginning with Uncanny X-Men #531, Fraction and Gillen pit the X-Men against what may be their greatest threat yet—the loss of their powers at the hands of the Sublime Corporation, as the malevolent force puts into action its master plan!
"For the last thirty years, Uncanny X-Men
has been superhero comics' truest reflection of the age. That's what I have to live up to and take it into the future, trying to write the definitive twenty-teen take on the X-Men," explained Gillen. "Any less is underselling what the book deserves. Co-writing with Matt seems a worryingly natural development, as we were friends, then were working together creating the five lights for Generation Hope. The exclusive is the proverbial gravy. In the words of Ms. Knowles:' They liked it. They put a ring on it.'"
Fraction added, "As a writer? This feels like Kieron and I have already been working on the book for several months anyway, what with the 'Five Lights' story and cueing up what he needed for Generation Hope, so this is a perfectly natural extension of that. As a reader? There's literally no one else in the world I want to read writing X-Men more than Kieron. He's great. He's dangerously great. And he's dying… Dying TO ENTERTAIN YOU."
A bold new era for the X-Men begins in December as Matt Fraction and Kieron Gillen join forces in Uncanny X-Men #531!
UNCANNY X-MEN #531
Written by MATT FRACTION & KIERON GILLEN
Penciled by GREG LAND
Cover by GREG LAND
Rated T+ …$3.99
ON-SALE IN DECEMBER