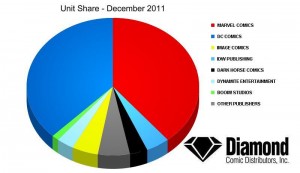 Marvel Comics climbed its way back to the top of the comic book heap. The House of Ideas led the market in December, narrowly edging DC Entertainment in both the Retail Dollar (34.43% for Marvel vs. 33.74% for DC) and Unit Share (39.05% vs. 37.72%) categories. The comic book landscape looks a little something like this now, Marvel just over a third of the market, DC just over a third of the market and all the rest just under a third of the market.
I like that DC is now making Marvel work for that top spot, two healthy industry leaders that are actively competing for supremacy is better than one dominant one resting on its laurels. I also like a strong rest of the pack! Ideally all the other publishers should hold more share collectively than either Marvel or DC. The need for strong alternatives like Image, IDW, Dark Horse etc has never been greater. A healthy rest of the pack also keeps the big two on their toes and makes the comic book scene more innovative and altogether better.
Sales in December, a four week month, declined from November, a five week month, with Comics falling by 14.45% and Graphic Novels by 21.17%. For sales on the year, Comics sales increased over 2010 by 1.16% while Graphic Novels sales declined by 5.01%.
DC's new 52 continues to be strong with 8 of its #4 issues dominating the top 10. Justice League #4, Batman #4, Action #4 and Green Lantern were Decembers best selling books.  Marvel's Avengers X-Sanction came in at #5 while it's Defenders #1 was 7th. Detective #4, Flash #4, Batman: Dark Knight #4 and Superman #4 rounded out the top 10. Note the 3 Batman titles dominating the top 10!
Walking Dead Volume 15 was the runaway winner for top Graphic Novel. Nothing says Christmas like Zombies!
TOP COMIC BOOK PUBLISHERS
PUBLISHER

DOLLAR

SHARE

UNIT

SHARE

MARVEL COMICS

34.43%

39.05%

DC COMICS

33.74%

37.72%

IMAGE COMICS

6.75%

4.89%

IDW PUBLISHING

5.26%

4.43%

DARK HORSE COMICS

3.97%

3.34%

DYNAMITE ENTERTAINMENT

3.35%

3.27%

EAGLEMOSS PUBLICATIONS

1.63%

0.37%

BOOM! STUDIOS

1.41%

1.32%

VIZ LLC

1.19%

0.50%

ARCHIE COMICS

0.82%

0.98%

OTHER NON-TOP 10

7.44%

4.12%
COMPARATIVE SALES STATISTICS
 

DOLLARS

UNITS

DECEMBER 2011 VS. NOVEMBER 2011

COMICS

-14.45%

-12.29%

GRAPHIC NOVELS

-21.17%

-19.27%

TOTAL COMICS/GN

-16.62%

-12.81%

DECEMBER 2011 VS. DECEMBER 2010

COMICS

2.66%

11.83%

GRAPHIC NOVELS

-16.20%

-21.44%

TOTAL COMICS/GN

-3.94%

8.66%

YEAR 2011 VS. YEAR 2010

COMICS

1.16%

4.57%

GRAPHIC NOVELS

-5.01%

-11.64%

TOTAL COMICS/GN

-0.89%

3.12%

FOURTH QUARTER 2011 VERSUS THIRD QUARTER 2011

COMICS

7.82%

8.39%

GRAPHIC NOVELS

-0.85%

-5.57%

TOTAL COMICS/GN

5.10%

7.34%

FOURTH QUARTER 2011 VERSUS FOURTH QUARTER 2010

COMICS

16.69%

25.08%

GRAPHIC NOVELS

-5.75%

-18.08%

TOTAL COMICS/GN

9.01%

20.89%