Frank Miller is publishing an original graphic novel this September through Legendary Comics.  Made available this week are pages and a trailer in motion comic style.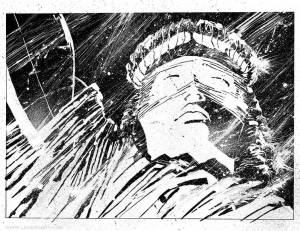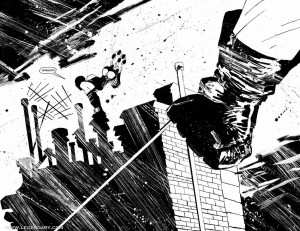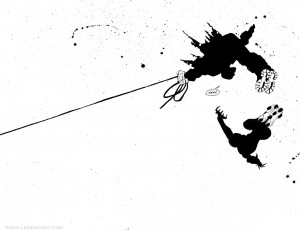 Here's the official press release:
[quote]Burbank, CA – July 21, 2011 – Legendary Entertainment today revealed the first five pages of HOLY TERROR, the graphic novel by iconic writer and artist, Frank Miller.
In HOLY TERROR, join The Fixer, a brand new, hard-edged hero as he battles terror. The graphic novel is a no-holds-barred action thriller told in Miller's trademark high-contrast, black-and-white visual style, which seizes the political zeitgeist by the throat and doesn't let go until the last page.
HOLY TERROR is a 120 page hardcover graphic novel with spot-color interiors presented in a 10 x 13 landscape format. Distributed by Diamond Books, HOLY TERROR retails for $29.99 and will be in stores in September.[/quote]
It was originally done with Batman ten years ago after 9/11 but languished until Legendary Pictures decided to open a comic division.  Miller changed Batman and Robin to these new characters and the story of revenge against terrorists comes to us.  The images appear Miller's current style of exaggerated form, large boots and excessive folds in everyone's clothes.  The motion comic trailer is an interesting twist to the normal press shots but it is a film company after all.