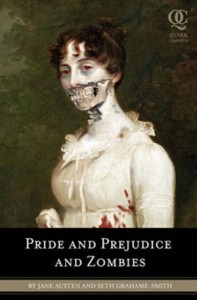 According to Variety, Princess Amidala is about to kick some zombie ass in the adaptation of the Jane Austen parody. Not only is she going to star in the movie, she is going to be a producer as well.
Portman will play feisty heroine Elizabeth Bennet, who is distracted from her quest to eradicate the zombie menace by the arrival of the arrogant Mr. Darcy. Darko just released "The Box," "World's Greatest Dad" and "I Hope They Serve Beer in Hell."
"Natalie and I are longtime passionate fans of Jane Austen's books and this a fresh, fun and thought-provoking way to approach her work," Savitch said. "The idea of zombies running rampant in 19th Century England may sound odd, but it lends a modern sense of urgency to a well known love story."
What can I say? This sounds pretty awesomes for Jane Austen fans and zombie lovers. Plus, we can hope Portman will wear that bellyshirt from Attack of the Clones.