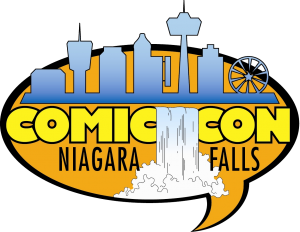 Comic Book Conventions are big business and the big ones represent a major tourist draw for the cities that host them. While comic convention goers heading to the New York Comic Con represent just a small blip in that city's tourism statistics other cons like the San Diego Con are major contributors to the host city's fame and fortune. Comic Con has done as much to put San Diego on the map as have the naval shipyards.
Conventions have also been a growth business as of late successfully proliferating outside the traditional con markets. I'd say on the Canadian side of the border two conventions enjoyed major breakouts last year. The Montreal Comicon and the Calgary Expo both enjoyed banner years and have cemented themselves as viable events that the host cities have to take note of and help nurture.
The Niagara Falls Comic Con takes place this upcoming Saturday June 9th at the Scotiabank convention Centre. Is a small sleepy town of 90,000ish people that also happens to be one of the top 3 tourist destinations in Canada (Toronto and Vancouver, in case you were wondering) ready to host a big convention? Is it geographically too close to Toronto whose Fan Expo is the king of all Canadian conventions?
Well I'm about to find out. I'll be attending the Niagara Falls Con setting up as a vendor with Big B Comics but I'll also do my best to report on it as a comicbookdaily.com reporter!