It's not often I get so awed by a comic. Over the years I've held some beauties and thanks to that beyond rare pile of 1930s comics we'll be auctioning in the coming weeks, the ones with the covers stripped off of them, I can add the legendary and beyond elusive Funny Picture Stories #1 to the list of books that have floored me. From November 1936, the comic features the first appearance of The Clock, believed to be the first costumed crime fighter in American Comic books. There is a saying to the effect of building off the shoulders of giants. How important is Funny Picture Stories #1 to the development of comic book heroes? Still, a very special book, and I won't waste this opportunity, I'll feature more pics of it a couple of more times in this post, let's not let this opportunity go to waste.
Funny Picture Stories is Very Rare! Only 13 CGC Blue Labels, 1 Qualified and 4 Restored and there are zero sales, look on GPA and you see all 5 columns blank. Like I said, Very Rare.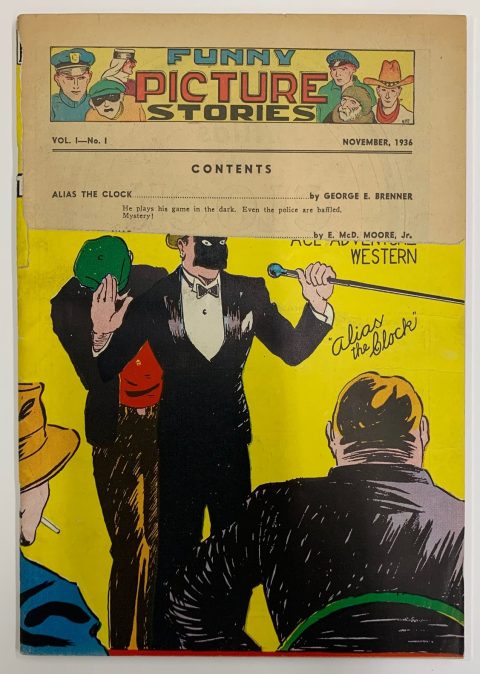 Let's grab the back cover from Funny Picture Stories #1 for this week's features ad. I mentioned last week how the ads of the 1930s seem less frivolous than the ads of later decades, things were lean in the 1930s and practicality was the way to go. This looks like some high-end technology and you get a free typing course and a free carrying case; I had to pay for my Otter Box when I bought a new phone! Was Remington the Apple of typewriters? I seem to remember the name Corona. I know IBM made them but I think that was later.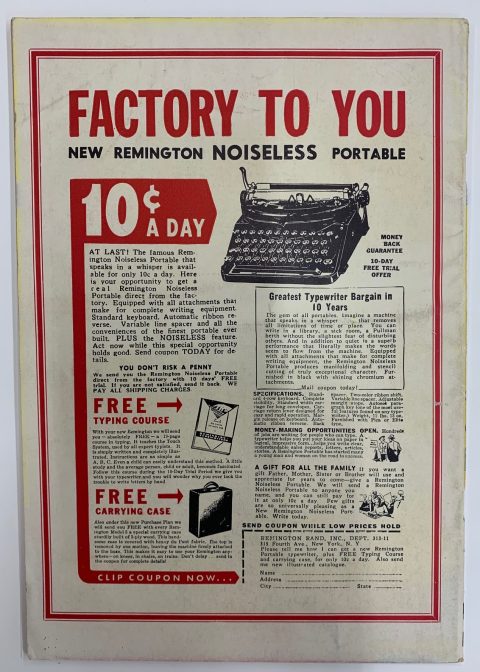 Let's stay with Funny Picture Stories #1 for our weekly Splash page. Artist and writer John Patterson gets credit for the art. The thing that gets me about this page is that it is one of the most cliched scenes in crime fiction, the industrial area down by the docks. What you have to stop and realize is that this is real-time, this image and its contemporary images are the ones that we default to when we make these scenes, I find that a very cool realization.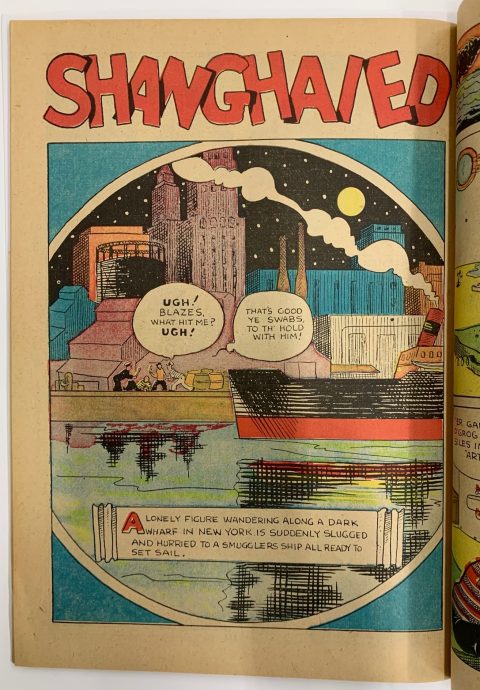 Ever the oportunist, I'll use the excuse that Funny Picture Stories #1 did not have a complete cover so I'll sneak a full cover into this week's post just so I can show off this guy's pants! What the hell is going on here and more importantly, where did he get those pants, I think I want a pair. To be honest I'll take the pants the guy across the street is wearing too. Wait, I think I did a piece on those blue pants across the street on another post, it was from a different comic and those blue pants were front and center. I remember because I once had blue pants like that when I was 10 in 1974, and my mom made me wear them. It's not often you'll catch me looking at DC Romance comics and not even notice the pretty girls on the cover, those pants!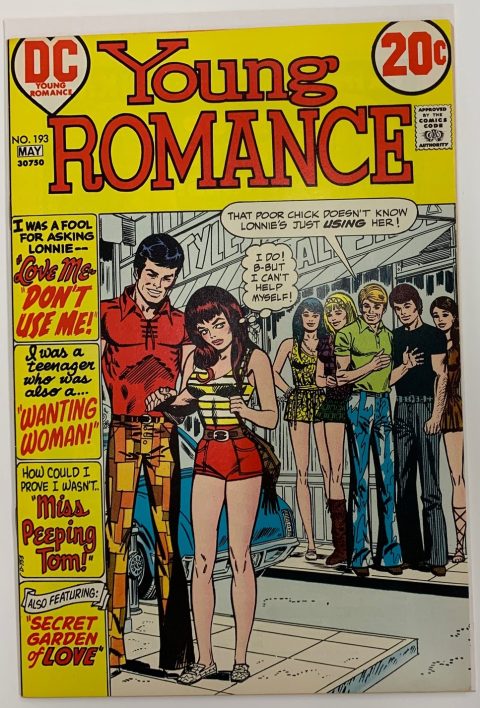 I found this calendar in a big pile, it's from 1986 and it celebrates 25 years of Marvel with 12 "great" covers. Good luck with that. You'd need a 365-day daily calendar to do that job right. I really should revisit that daily cover thing from a few years back.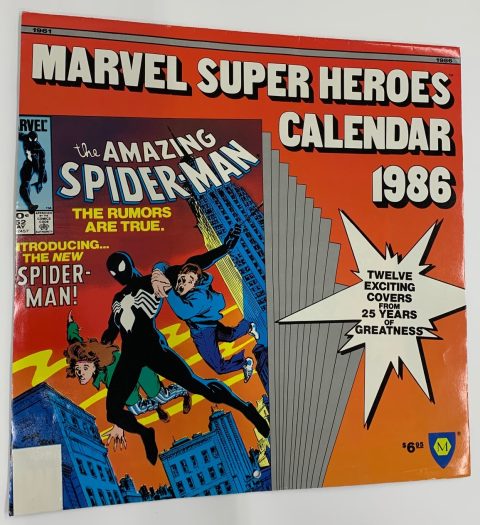 The icecollectibles weekly eBay auction really packed a punch this past week. Last night's results were strong and I was actually a bit surprised by the result of the X-Men Annual #14 shown below. The last sale for this book before last night was a very low $196 which slid from a previous sale of $266 which was itself down from the sale before of $280. Ours finished at $305, putting it just a bit above the 90-day average of $303. These days it's a good sign when comics can hold their 90-day averages.