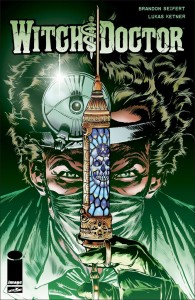 Writer and Image Comics partner Robert Kirkman has launched Skybound, an imprint designed to recruit and showcase the next generation of comic creators.
Announced in today's New York Times, Skybound will make its official debut on Thursday during Kirkman's Comic-Con International panel. There he'll introduce the imprint's first title, Brandon Seifert and Lukas Ketner's Witch Doctor, a horror-medical drama described as "House meets Fringe."
The duo came to Kirkman's attention after he saw an illustration Ketner created for Portland, Oregon's Willamette Week, and then stumbled across an earlier version of Witch Doctor on the artist's website.
Kirkman, whose Image titles The Walking Dead and Invincible will move under the Skybound banner, will offer creators advance payments and marketing assistance. If a Skybound title draws attention outside of comics, Kirkman will help them maneuver international publishing rights, licensing for film, television and toys, and so on. In return, The Times reports, Kirkman receives a stake in all of the imprint's properties — one that can include a percentage of any licensing deals.
However, Kirkman insists, creating good comics is the priority: "I'm not going to publish anything that would be a bad comic but would make an excellent TV show."