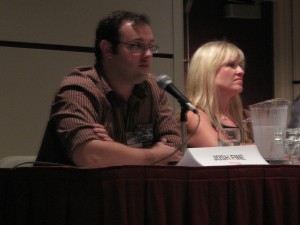 Marvel animation and Teletoon announced Saturday the debut of Avengers: Earth Mightiest Heroes in the fall.
After screening a two episodes featuring the Avengers coming together to fight Graviton, Teletoon`s director of programming Caroline Tyre that Avengers will debut on the network starting October 22.
Josh Fine, Supervising Producer of the show, announced each character in the show will have short five minutes micro episodes dedicated to them.
These episodes will be broadcast on both Marvel`s website and Teletoon`s beginning September 22.
"When we set out to create the series we wanted to pay tribute to all the different stories told over the years," said Fine. "We tried to pick the best things and make the best Avengers show possible."
If this wasn`t enough to help Canadian fans tune in, Fine confirmed we can also expect to see one Canadian character.